It's no secret that Waterloo-based smartphone maker Research In Motion has had problems lately. Everything from a falling stock price to layoffs and even rumors of a sellout have plagued the company's news as of late, topped off with another delay of its next-generation BlackBerry 10 platform.
But, as CEO Thorstein Heins recently stated, the company is not dead yet and has a plan. An alleged leaked document posted by BlackBerryOS.com purports to show the company's roadmap for BB10, and it includes a couple of surprises:
With the help from an anonymous source, we have gotten our hands on what appears to be a BlackBerry 10 Roadmap for 2013! Boo-ya!! I'll explain more below, but first, here is a quick overview of the roadmap dates:

4G PlayBook – Q4, 2012
BlackBerry 10 London/Nevada – Q1, 2013 – Europe launch before N. America
BlackBerry 10 Upgrade for PlayBook – Q1/Q2, 2013
BlackBerry device codenamed "Nashville" – Q2/Q3, 2013
BlackBerry 10 inch PlayBook "Blackforest" – Q3, 2013
BlackBerry device codenamed "Naples" – Q3/Q4, 2013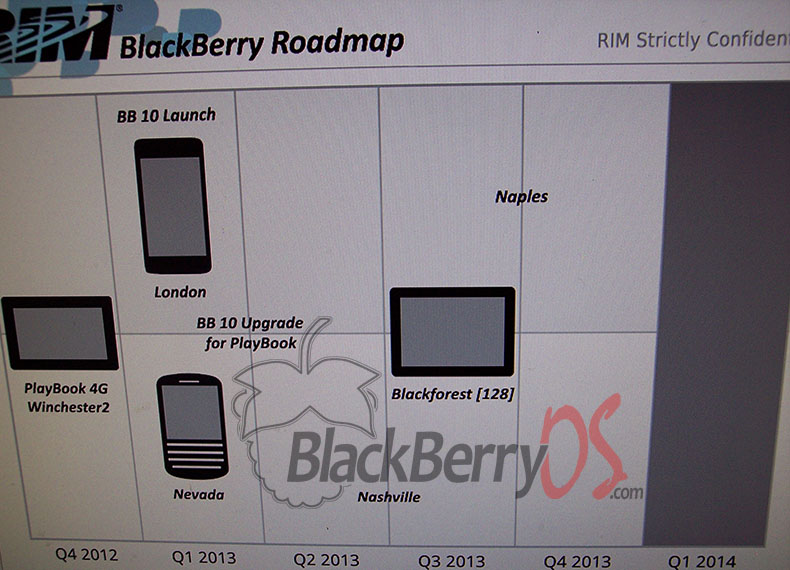 The BlackBerry 10 launch will include the "London" touchscreen phone, as well as the "Nevada," a BB10 phone with a keyboard that Heins had promised at BlackBerry World in May. The document also makes mention of "Nashville" and "Naples" devices set for spring/summer and summer/fall, respectively, though there are no details on those devices aside from their code names.
The document also mentions the release of "Blackforest," a 10-inch tablet (likely the rumored 10-inch PlayBook) to be released sometime in summer 2013. The number "128" is visible next to the device's name, which could be a reference to the device's capacity, 128GB, but that's highly speculative.
The upcoming BB10 version of the Tru VOIP app will be compatible with all of these devices from what our sources have indicated.
RIM didn't comment about the document, but the roadmap lines up with many of the rumors that have been circulating for months. But plans can change anytime as the recent BlackBerry 10 delay has shown.