It's been a busy day for Galaxy S IV rumors as SamMobile claims to have their hands on the worlds first press shot featuring the upcoming flagship Android device. The site does admit they can't confirm the validity of the shot as 100%, but that the image "looks really sharp and doesn't look fake at all."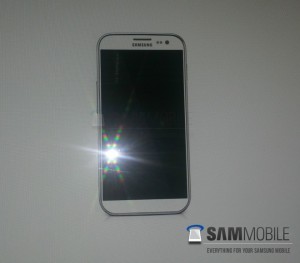 The device looks to feature on-screen buttons as there doesn't seem to be any hardware or capacitive buttons underneath the display. Along with a thinner bezel, the screen appears large, but how large is anyones guess. Rumored specs include a quad-core 2.0GHz CPU, 2GB of RAM, 4.99? Super AMOLED HD 1920×1080 display, 13 megapixel rear camera, 2 megapixel front-facing camera and Android 4.2.1.
In addition, a new report suggests that Samsung execs will bring the Galaxy S IV to CES next week to show off to carrier partners. The device will only be accessible to high-level executives, may not be a final design, and will be protected by the highest levels of security.
Finally, we also received word that Samsung could release the Galaxy S IV as early as May, despite an earlier report that pegged April as a likely launch date.
No doubt as we get closer to a possible launch date for the device, the rumors will persist and we should start receiving more accurate details. For now, all we can do is enjoy the speculation.