An update to the Windows Phone 8 OS released by Microsoft back in January removed Skype's People Hub integration, which was found to be causing some instability in WP8 devices. At the time, Microsoft said it was only temporary, and that the People Hub integration with the VoIP and messaging platform would return.
As reported by WPCentral, Microsoft's Joe Belfiore said in a tweet on Twitter that the update is indeed forthcoming, but didn't actually say when: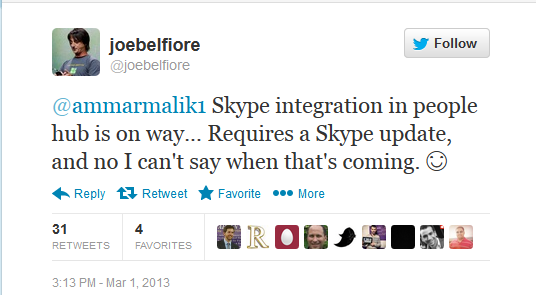 Skype's future on the Windows Phone OS is not yet exactly certain, as Microsoft could easily hit the brakes on the People Hub integration and keep the app standalone. The more likely scenario, though, is that it will (eventually) roll out the People Hub integration as planned. Needless to say, there is a definite need for improvement when it comes to the Skype and Windows Phone relationship. Here's hoping these updates arrive sooner rather than later for Windows Phone and Skype users.