Voxeet's Latest Edition Takes Conference Calling to Whole New 3DHD Levels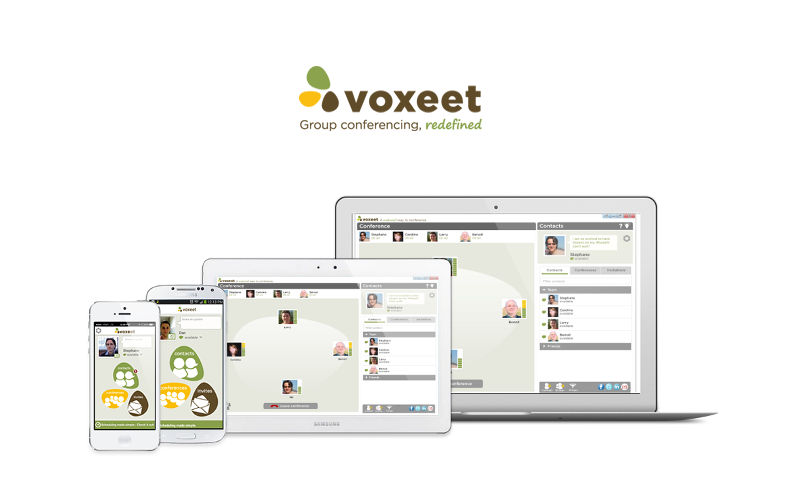 Over 100 billion minutes are spent each ear on audio conference calls (this is, of course, not counting one on one or video calls). One of the Achilles' heels of participating in these calls is the often low quality or dropped calls often experienced.
Eliminating these issues is the focus behind Voxeet's mobile apps for iOS, Android and Windows desktop PCs. Unlike many conferencing solutions, Voxeet has designed its app for the mobile generation, making it perfect for business professionals on the go, especially alongside data roaming services that can allow continuous connectivity worldwide.
Voxeet looks to maximize productivity by "making it easier for callers to understand one another and identify who's speaking"
Voxeet looks to maximize productivity by "making it easier for callers to understand one another and identify who's speaking," which can be an irritating side effect of large-group calls. Voxeet also removes talk-over and delays while reducing the number of dropped calls as well.
buy fucidin online Buy fucidin no prescription cheap fucidin generic
"By bringing immersive 3DHD audio to desktops, tablets and smartphones while eliminating the hassle of PINs and dial-in numbers, Voxeet transforms the conference call experience from a fatiguing chore into a simple, lifelike way to collaborate effectively," said Voxeet Founder and CEO Stephane Giraudie. "With Voxeet 2.0's new audio engine and other enhanced features, we've raised the bar again for what's possible in conferencing and created an experience that people don't want to give up once they've tried it."
Specifically, the new Voxeet 2.0 application provides:
3DHD audio, which minimizes call fatigue by eliminating annoyances such as asking people to repeat themselves, while making it easier to understand callers with accents. The advanced audio engine also eliminates background noise, echo, talk over and differences in each participant's audio level.
A roomlike experience, where acoustic and visual cues eliminate guesswork about who's speaking, even when multiple people are talking simultaneously. By putting each participant's audio in its own stream, Voxeet replicates the experience of being able to tell who's speaking simply by the direction each voice is coming from, leveraging the way the brain works when there are multiple speakers in a room. Each user's avatar and other visual cues provide additional information about each speaker's participation status and position in the virtual room.

buy lasix online Buy lasix no prescription cheap lasix generic

Whisper mode for private, one-on-one conversations during conference calls. Users simply click on another participant's avatar, eliminating the need to use a separate chat app as a backchannel. During the Whisper chat, users can still hear the rest of the conference, so they don't miss important points.
Seamless, single-click call transfer between mobiles and computers so users can start a call on one device and finish it on another. Transfers are inaudible to other participants, so there are no strange sounds to interrupt the conversation.

WebRTC has matured enough to serve as the foundation for Voxeet's proprietary 3DHD technology

WebRTC, which has matured enough to serve as the foundation for Voxeet's proprietary 3DHD technology, noise suppression and other industry-first features. Voxeet's new WebRTC-based audio stack replaces the 1.0 app's multi-vendor solution to provide greater reliability and consistency across different types of devices and networks.

buy ventolin inhaler online Buy ventolin inhaler no prescription cheap ventolin inhaler generic

An intuitive user interface that enables on-demand conferencing and simplifies common tasks such as call transfers. With Google Calendar, iCal, Outlook and other platforms, Voxeet users simply include meet@voxeet.me as a participant to instantly schedule a conference. Voxeet then calls each participant and the host as the conference is about to begin, eliminating the need for PINs and dial-in numbers.
Integration with contact lists and Facebook to streamline tasks such as creating a Voxeet account, sending invitations and organizing contacts into frequently conferenced groups.
The new Voxeet 2.0 can be downloaded for free from www.voxeet.com/download.