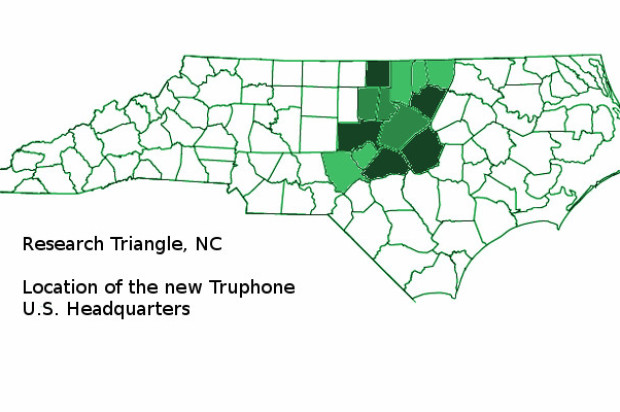 We've just received a tip that Tru is relocating its U.S. headquarters from New York City to the Raleigh-Durham, North Carolina (also known as Raleigh-Durham-Chapel Hill or simply "the Triangle") area within the next six to nine months. It turns out that it was true.
Tru US's senior vice president, Gary Cohen, told BizJournal that the relocation will bring in dozens of new jobs to the area.
12 people are already working out of temporary office space in Durham, a number which will likely grow to 25 by the end of 2012. Cohen hopes to increase that number to 100 over the next two years. Cohen reveals that many of the positions will be in sales and marketing but adds the possibility of an expanded call center somewhere down the road.
The selection of the Research Triangle Park headquarters and build-out of the U.S. team marks the company's formal expansion and presence in the country.
The U.S. executive team is comprised of industry veterans from IBM, AT&T, Sprint, Nextel, British Telecom, Motorola, Ericsson and other leading technology companies. Among them is Susan Nelson,Vice President, Business Development, an RTP local who was previously recognized as one of the Triangle Business Journal's top 25 Women in Business.
The location was apparently picked because of a its "reputation for innovation" along with its close proximity to other technology companies in the area, including offices of IBM, Qualcomm, Lenovo, and General Electric along with over 160 other companies. Cohen called the location a "perfect fit."