IDC: Windows Phone Mobile OS To Experience Significant, Continued Growth Through 2016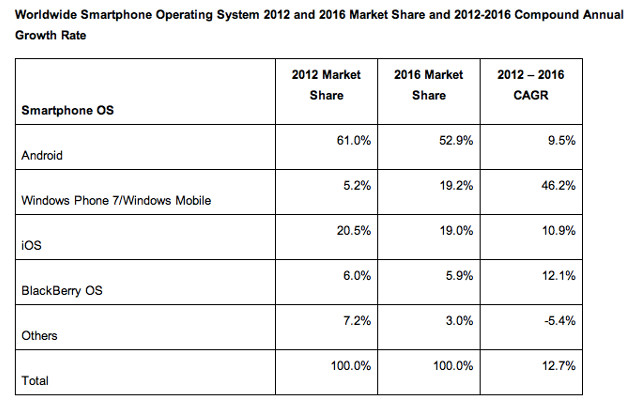 If you're an Apple or Android fan, you've probably been basking in the warmth of market dominance thus far as your favorite operating system rises above all others. But if recent reports are any indication, the growth isn't going to last as new leaders begin to emerge and old leaders fall back.
According to market research firm IDC's Worldwide Quarterly Mobile Phone Tracker report, 2012 is the beginning of a major shift in smartphone sales, now dominated by Android and iOS. However, during the period between 2012 and 2016, the IDC sees Android's share of the global smartphone market dipping from 61% to 52.9%, iOS from 20.5% to 19% and — here's the kicker — Windows Phone will balloon from 5.2% in 2012 to 19.2% in 2016, passing iOS as the number two smartphone platform in the world.
We can already see this trend going that way with recent sales, along with Windows Phone's recent achievement of over 100,000 apps in its Marketplace five months faster than Android had taken to hit that mark.
"Underpinning the smartphone market is the constantly shifting OS landscape," IDC analyst Ramon Llamas said. "Android will maintain leadership throughout our forecast, while others will gain more mobile operator partnerships (Apple) or currently find themselves in the midst of a major transition (BlackBerry and Windows Phone/Windows Mobile). What remains to be seen is how these different operating systems – as well as others – will define and shape the user experience beyond what we see today in order to attract new customers and encourage replacements."
As for RIM, the IDC report expects their smartphone market share to remain relatively flat, moving from 6% in 2012 to 5.9% in 2016. This is rather bleak for those of us looking forward to a major BlackBerry 10 turnaround.
While any number of factors can and will influence the numbers in this report, such as the upcoming Mozilla Boot to Gecko launch, a (possible) mobile version of the Ubuntu OS, or even an additional competitor coming to market and altering the mobile landscape completely — or a competitor such as RIM exiting the market — it appears we will see three dominant operating systems competing for our hearts in the near to far future: Android, iOS, and Windows Phone.