Microsoft has recently posted on its official Twitter that it's offering Skype Premium with Unlimited World calling free for a month in the latest of a number of promotions we've seen coming from the major VoIP operators.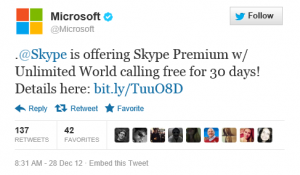 Skype Premium unlocks an assortment of features to its users, including "group screen sharing," which allows users to share pictures and videos with everyone at the same time or show someone who is far away what's new on the internet; group video calls, which allows users to chat with up to 10 people simultaneously via Skype; and of course, the aforementioned free unlimited worldwide calling, giving users the ability to keep in touch with people with a landline in over 40 countries or with mobile phones in 7 countries, including Canada, Guam, Hong Kong S.A.R., Puerto Rico, Singapore, Thailand and United States.
To take advantage of the offer, users can simply visit the Skype website and enter their Skype account information and other details.