Huawei Reveals 6.1-inch Ascend Mate Device at CES, Sports 720p Display and Magic Touch Technology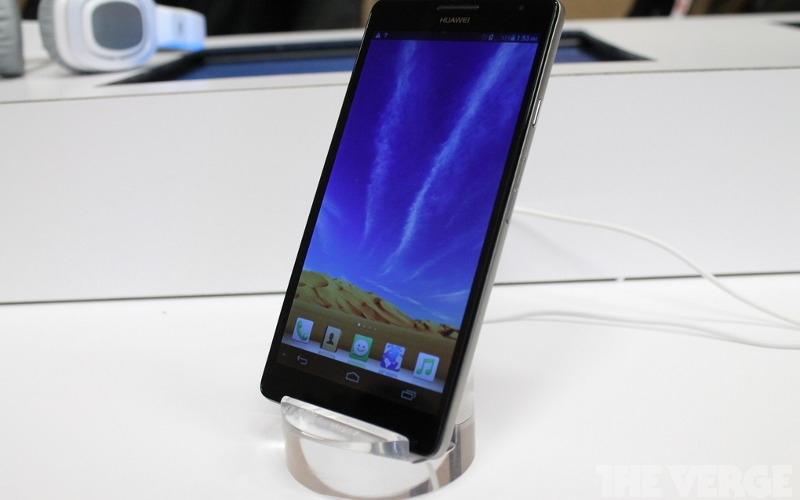 If you like using your favorite VoIP app on big phones — or really big phones — then you'll want to keep your eyes out for the Huawei Ascend Mate, a long rumored device that was revealed by Huawei today at the Consumer Electronics Show and first spotted at The Verge.
The Ascent Mate's display brings it well into the "phablet" category
The Ascend Mate sets itself apart from other devices with its gargantuan 6.1-inch 720p display, bringing it well into the "phablet" category of devices. In addition to its spotlight display, the device features a 1.5GHz quad-core processor, 2GB RAM, a powerful 4050mAh battery, an 8-megapixel camera, and also includes "Magic Touch" technology, which means you'll be able to use the phone while wearing gloves like you can with the Nokia Lumia 920. Users concerned with how they're going to hold the device will also find a one-handed mode that fits a regular-sized smartphone keyboard or dialpad into the bottom corners of the Ascend Mate's screen.
As for the operating itself, the phone runs Android Jelly Bean with Huawei's Emoticon UI skin rolled over the top. While it would have looked better with a 1080p display, we can't fault the Chinese manufacturer for putting out a nonetheless impressive device. Now we just have to buy pants with bigger and deeper pockets.
Photo: The Verge