Many Viber users choose to save their messaging history for different reasons. Maybe you want to save that special message your girlfriend sent you for Valentine's Day. Or there's some important information your mother sent that you'll need to keep. Perhaps you want to keep a back up of that text-based argument you had with a friend (you know, for proof later) about which bad guy was more awesome: Darth Vader or HAL 9000. Whatever the case may be, saving your message history on Viber can be important, which is why we're going to show you how you can do it on your smartphone.
Currently, the feature is only available for Android and iPhone versions of the application, though we'd be surprised if the feature didn't make it to Windows Phone devices at a later time (more on Windows Phone later).
Before getting started, make sure you have the latest version of Viber downloaded on your device.
With Android, the process is quite simple. Once you've opened your Viber application on your device, simply hit the Menu button, and tap on More options to bring up the Viber System Settings menu within the app. This menu will present you with a long list of options that will allow you to tweak your app experience in a variety of ways. The option you'll want to choose to back up your messaging history, however, is the Email messages history option (as shown below). You'll be able to send a .txt file containing your message history to the email address of your choosing. Obviously, if the app cannot find any messages, these options will appear grayed out.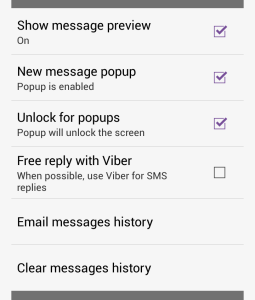 For iPhone devices running Viber version 2.1.5 or above, the process is actually very similar. The Viber app's System Settings menu can be accessed by selecting the More tab located at the bottom right of the application. Once there, hit Settings and you'll be taken to the menu you see pictured below.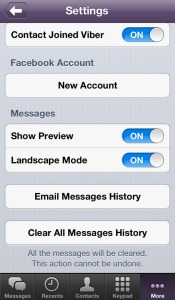 You'll now be able to see many of the same options Android users see, including the same Email messages history you'll need to select to export your Viber message history to the email address of your choice. Once you've done so, the messaging history, as with Android, will be accessible on any text file reader.
As mentioned, this option is not yet available to Windows Phone 8 users, though there is a Clear Message history button under the Options menu. When comparing the Android and iPhone versions, this is likely to be the place we'll see the option to export in a possible future update for Windows Phone (maybe even the "version 3.0 features update"?), though this is only speculation and we haven't heard anything official on whether or not this option is coming. For now, Windows Phone users can hold the Windows Key and the Power button simultaneously to take a screenshot of those important memories.
Make some new Viber friends here and be sure to let us know in the comments below if you have any questions, or you can contact us on Viber.