The news on the WhatsApp front is mixed today, with some good news and some bad news finding its way to our inbox.
First of all, the good news. WhatsApp has announced via Twitter record user numbers, after revealing that the service just processed 27 billion messages over a 24 hour period, up from its previous best of 18 billion from the final day of 2012. This includes 10 billion inbound messages and 17 billion messages received by users of the app. The company explains that group messaging — "sending one message into group chat of 10 people is 1:10 inbound:outbound" — is the reasoning behind the numbers not matching up.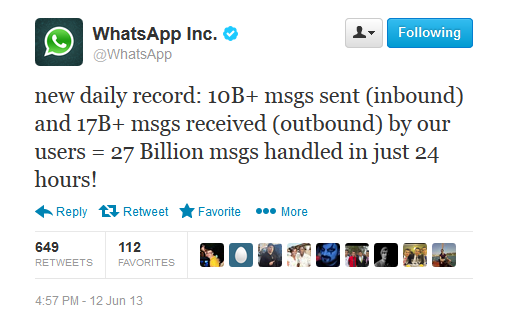 These numbers confirm that WhatsApp is still growing very quickly, even with competitors such as KakaoTalk and LINE spreading into the market. WhatsApp charges $0.99 per year, while competitors have all chosen different ways with which to monetize their apps.
Unfortunately, there's also a bit of bad news to report here. According to a number of Arabic sources, WhatsApp could be facing the same kind of ban by the CTIC that has hit Viber. In fact, the ban could happen "within weeks."
The CITC released a statement in March confirming that some online applications did not match the regulator's requirements or the kingdom's rules and regulations.
"The CITC has requested licensed service providers to work along with developers of such applications to rapidly meet required regulatory requirements," it added.
The services cited in the CITC's review included WhatsApp, Skype and Viber, among others. WhatsApp could also be facing legal scrutiny from Egypt, although it's unlikely that country will push for an all-out ban as it looks to possible regulation.