Greet Friends and Family This Holiday Season With Vello, an App That Unites Video Messaging and Greeting Cards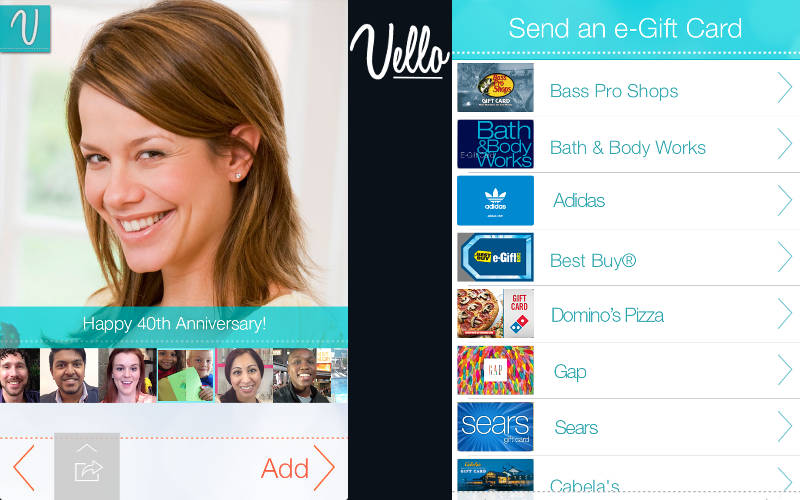 Video calling has in some ways started gain ground versus calling and messaging. Many apps we cover have started to incorporate video calling and messaging as a standard feature as of late, slowly turning voice calls and text-based messaging into a niche.
Vello is one such app, taking digital greeting cards and Vine-like video messages that can be up to 6 seconds in length and rolling them into one, enabling users to message friends and family no matter where they are. In many ways, Vello is similar to Pinnatta. Users can invite their contacts to record their own greetings as well. Greetings can be sent immediately or postponed to a certain date.
But it's not all just about the video messaging. Vello also incorporates an eGifting feature similar to that found on social networks like Facebook, allowing users to send gifts to those on their list for any special occasion or moment. Just select an eGift card from 100+ popular retailers and everyone you invite will be given the option of contributing to the eGift if they choose.
"I am consumer expert in gift cards," Vello founder Frances Ho told TruTower. "My first company is CardSwap a marketplace to buy and sell gift cards. I've always had a love-hate relationship with gift cards. I love giving them because they are so convenient and time-efficient. However, when you look at the principle behind giving, it's about connecting with someone special in your life. It's about telling them you care and making them smile. So, let's be honest … gift cards are one small step up from cash.

Vello is about making things personal again. It's a great alternative to a Facebook message, tweet or a text. And, it's about bringing your entire community together to celebrate special events."
Vello is a very personal way to stay in touch, in many ways much more so than many other apps on the market. Instead of selecting a pre-made card, you're able to fully customize your own with a real moment. The app's greetings can be shared in groups of friends, family, co-workers, or teammates.
Vello is currently available as a free download exclusively for iOS devices. No word yet on a version for Android or Windows Phone. See the app in action below.