Viber has just launched its calling and messaging app on Windows 8, bringing the app (and all of its glorious stickers) to tablet and desktop devices and further expanding its ever-growing reach.
The new version has been designed from the ground-up for the touch-centric platform and includes several unique and exclusive features for Windows 8 users, including the usual suspects like Live Tiles and lock screen notifications, but also including:
Viber for Windows 8 includes several exclusive features.
Pin Viber conversations to the Start screen
Snap Viber to the side of the screen with Snap View
Search for Viber contacts using the Search charm
"Windows 8 Toast Notifications" guarantee that you never miss a message or call
Change languages regardless of your system language
Viber messaging, free calls, stickers, and seamless integration and call transfers between mobile and desktop versions of Viber
And these are just the exclusive features, mind you. The features found in other versions of Viber are still present in the new application.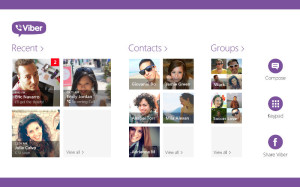 "This is the natural next step for Viber following our support for Windows Phone 8, bringing a fully compatible and custom designed version of Viber to Microsoft's touch-friendly OS," said Talmon Marco, CEO of Viber. "Windows 8 is an exciting platform to develop for, and brings a whole new set of UI elements and unique functionality to Viber for the first time. We are excited to support Viber users on Windows 8 and this is part of our commitment to wide, cross platform availability."
"This is the natural next step for Viber following our support for Windows Phone 8"
The Windows Phone 8 version was initially released with voice in April, though a messaging-only version had been available for some time before that. The new Windows 8 version represents a new dedication to Microsoft's new touch-centric platform.
Viber users can downloaded the Windows 8 app from the Viber website.