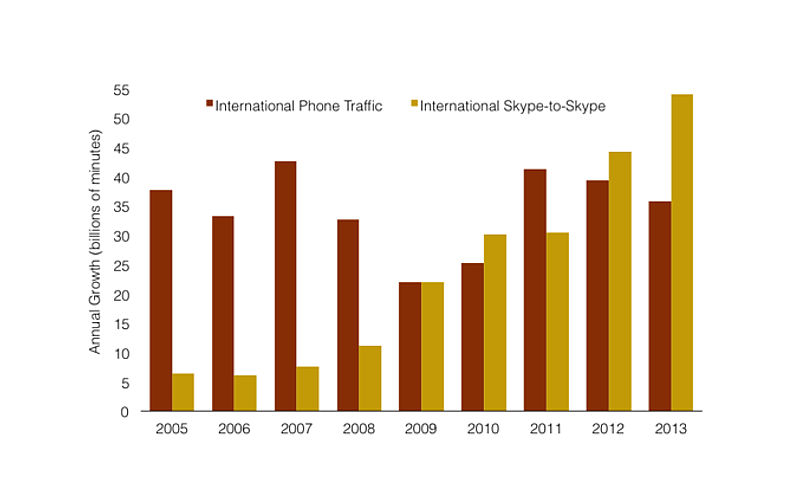 There are a growing number of calling apps on the market, but few have continued to grow as massively as Skype. With hundreds of millions of users worldwide, Skype continues to define the VoIP market, and despite recent hacks on official social accounts to start the new year off the wrong way, the service continues to do very well.
In fact, according to new data from telecom market research firm TeleGeography, Skype's international traffic volume with Skype-to-Skype calls grew 36 percent in 2013. In other words, 214 billion minutes were spent on Skype calls throughout the year.
Skype usage is growing at a faster pace than fixed lines and mobile phones by 50 percent
This puts Skype's overall usage at a faster pace of growth than that of fixed and mobile phone lines by about 50 percent or 54 billion minutes, in 2013. Skype is likely benefiting from the large growth at the expense of traditional wireless service providers.
"The rapid spread of OTT services is making life ever more challenging for international service providers, but the PSTN will not disappear anytime soon," said TeleGeography analyst Stephan Beckert. "No other network comes close to matching the global reach of the PSTN. While Facebook has approximately 1.2 billion monthly users, at year-end 2013, the PSTN connected to just over 8 billion fixed and mobile subscribers worldwide."
This growth is also very impressive considering the aforementioned growing competition in the mobile over-the-top (OTT) communications space. Many apps have been downloaded and installed on mobile devices more than 100 million times from Google Play alone — Skype is among them, along with WhatsApp Messenger, Facebook Messenger, LINE, Viber, Tango, Google Hangouts and Samsung's ChatOn.