Chaatz Messaging Application Launches in iTunes App Store, Provides Multiple Profiles For Communication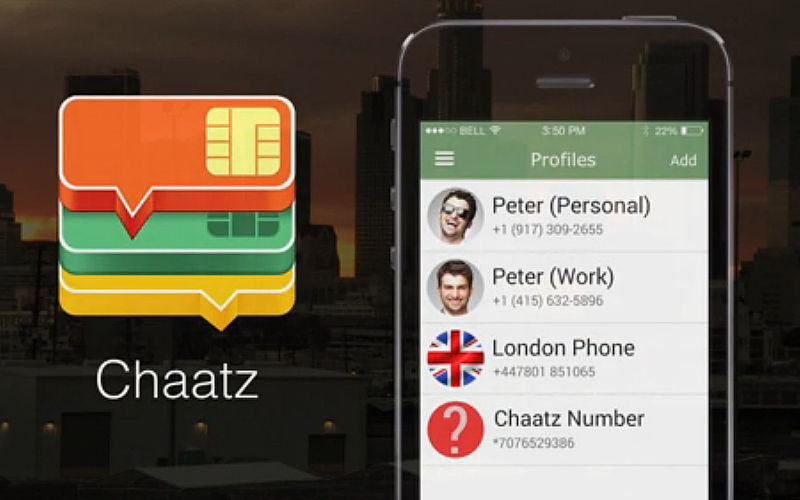 It's no secret, especially here on TruTower that the messaging space has become quite crowded. With all of these options, it can get pretty hectic, not to mention confusing.
Now it's just gotten a bit bigger. Chaatz has officially launched on the iTunes App Store, and it brings with it a way to create, organize and manage multiple profiles and phone numbers for business, personal and private communications on a single device.
What makes Chaatz stand apart from other messaging services is the fact that users can create different profiles for them, their co-workers, their families, and their friends to communicate — it can be used for both personal and professional purposes.
Chaatz users can keep their phone numbers private
Chaatz also offers a Chaatz number, which provides its users a way to assign a number, or alias, that appears as a local number to the country of the user's own choosing. This number can be provided to others instead of a "real" phone number to keep the real phone number secret. Think of it as an alternative to TextMe or Google Voice. It's also a great way to give devices that don't traditionally have phone numbers an option to text.
Chaatz was founded by CEO Richard Cheung — also the founder of mBounce group of companies — and is made up of 20+ engineers with a combination of skills across different chipsets, platforms and networks.
The idea for Chaatz occurred to us after years of working closely as development partners with a range of top mobile technology brands like Nokia, Samsung, LG and Facebook, said the company.
The group behind Chaatz has been in the development game a long time
The people behind Chaatz have been in the development game for a long time. They were a top developer for Nokia and built their first app store in 2006 and have "done a great deal of app development" for both Samsung and LG; they build LG's app store in 2009 and were a "prominent part" of Samsung's app store that year as well.
Another notable accomplishment was the group's assistance in building Facebook's mobile version for feature phones last year. Chaatz is also the authorized AppStore provider for MediaTek, the largest mobile chipset provider in the world.
If the other messaging options available on the market don't quite fit your needs, then perhaps Chaatz will be able to accomodate you. Chaatz can be downloaded for free via iTunes