Even though it is not available to the public, work on the closed beta version of WhatsApp for Windows Phone continues, and thanks to our friends at WPCentral we have been given a glance of just a few features upcoming to the app for Microsoft mobile devices.
The private beta is currently in version 380 and brings some notable security controls that add onto the media download feature we spied last month. These controls allow you to prevent other users from seeing when you log in and when you were last available.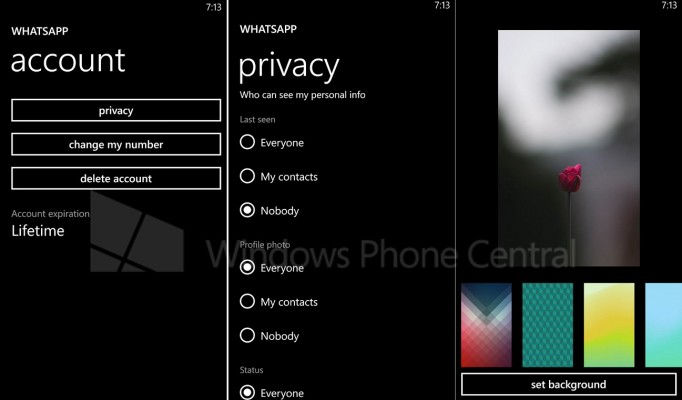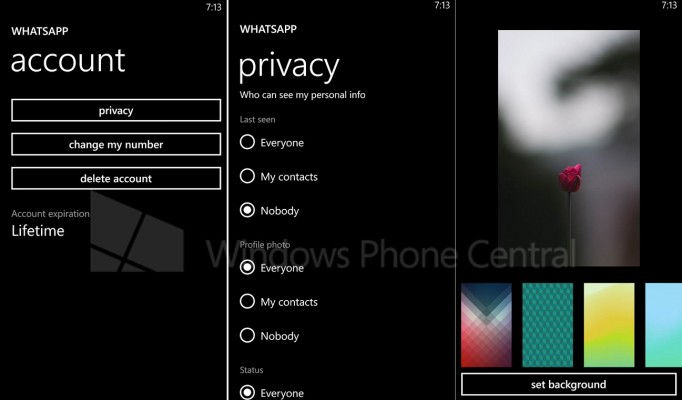 As you can see from the screenshots, the beta version is also finally bringing the WhatsApp backgrounds to Windows Phone, bringing it ever closer to the versions available on iOS and Android.
The new update brings WhatsApp for Windows Phone ever closer to other platform versions
After being acquired by Facebook and while facing strong competition from other apps, WhatsApp continues to lead the messaging landscape by user count and engagement. With these new features being made available on Windows Phone, this and the addition of voice calling could bode well for increasing engagement a little more in the land of Live Tiles.