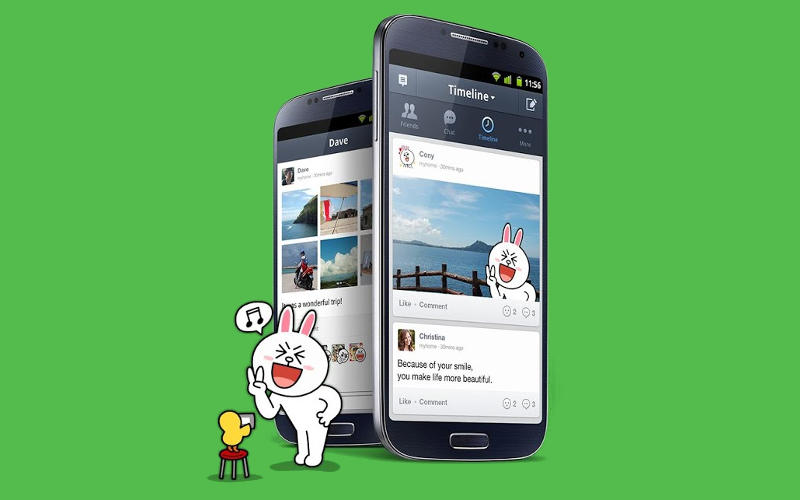 LINE Corporation, owner and operator of the free call and messaging app, LINE, today announced the release of LINE Call, a new calling service that allows users to make calls using their LINE accounts. The new service is available initially in eight countries – Japan, United States, Mexico, Peru, Columbia, Thailand, Philippines, and Spain – with plans to expand into other territories in the future.
LINE Call, first detailed at Mobile World Congress, will be exclusive to Android for a time, but LINE says the service will be "available on iOS shortly." Users must register a phone number on their accounts; once they've done so, they'll be able to start using the calling service immediately and experience "clear, uninterrupted, high-quality, and low-cost domestic and international calls to landlines and mobile phones," says the company.
An alternative to prepaid mobile services and disposable calling cards
LINE Call is being marketed as an alternative to traditional prepaid mobile services and disposable calling cards and call recipients do not need to have the LINE app installed to be able to participate. However calls between LINE users are free. As mentioned at MWC, the service will include two different pricing plans — monthly or pay-as-you-go — and will work alongside LINE's existing features and services, including its gaming platform.
"The ability to make calls directly to mobile and landline phones has been one of our most requested features, and we are proud to be able to provide LINE customers a more seamless and fun experience on our app while engaging those closest to them," said Jeanie Han, Chief Executive Officer, LINE Euro-Americas Corp. "With each new platform development and service, we are able to improve our platform to strengthen our positioning as an 'all-in-one' communication app."
"we are able to improve our platform to strengthen our positioning as an 'all-in-one' communication app."
LINE has given users the ability to make free calls to other LINE users since October 2011 and added the free video call functionality in September 2013.
Costs of all calls are calculated depending on the country or region where the receiver's phone number is contracted, which means that the cost of calls to US numbers are the same whether the call originates from inside or outside the country. LINE Call will show the cost-per-minute of the call upfront, automatically displayed on the dialing screens so users knows exactly how much they are being charged for each call.
If you run out of credit, you can purchase additional calling credit via in-app purchase within the LINE app itself. As of February 2014, LINE has more than 370 million registered users globally, an increase from 300 million in November. Take advantage of these new calling services by downloading LINE onto your Android.