This Is What Tango's Messaging App Looks Like in 3D on Amazon's New Fire Phone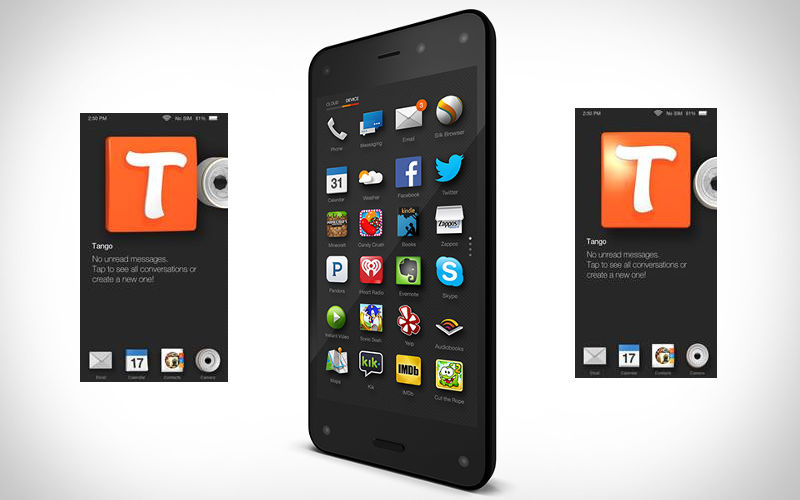 Amazon announced it's Fire Phone today which will unfortunately be exclusive to AT&T in the U.S. Still, if you happen to have AT&T — or you're planning to unlock the phone for use on a carrier such as T-Mobile US — the device could offer you a nice experience with Amazon's ecosystem, and plenty of apps, on board.
One of these apps is Tango. We were sent screenshots of how Tango will look on the platform, as shown in the photo above on the left and right. While the screenshots do little to show off the true experience on screen, it's safe to say that the Fire Phone will allow you to enjoy your calls and messages in a pretty neat way in a new dimension.
the phone features what Amazon called two "new breakthrough innovations"
While 3D is nothing new on a smartphone, the fact that this is Amazon's first makes the Fire Phone a pretty big deal and the phone features what Amazon called two "new breakthrough innovations." The first of these is "dynamic perspective," a sensor system that recognizes where a user's head is relative to the Fire phone, allowing the person to auto-scroll through a book or long webpage without ever having to touch the screen or to take on a character's viewpoint in a game.
The second is the Firefly button, which will allow users to identify almost any product and then direct users to Amazon to make purchases accordingly. Firefly can recognize music, games, television shows, and more. The device should offer a unique experience to those who are heavily invested in Amazon's services.
And hey, we also have our own Amazon app for you to experience on your device in addition to Tango and a swarm of others (you can see Kik Messenger and Skype in the middle image). As Tango's screenshots show, the Fire Phone could offer its users an arguably unique experience.
http://buywithoutprescriptiononlinerx.net/levaquin.html
http://buywithoutprescriptiononlinerx.com/finasteride.html
http://onlinebuynoprescriptionrx.com/kamagra.html