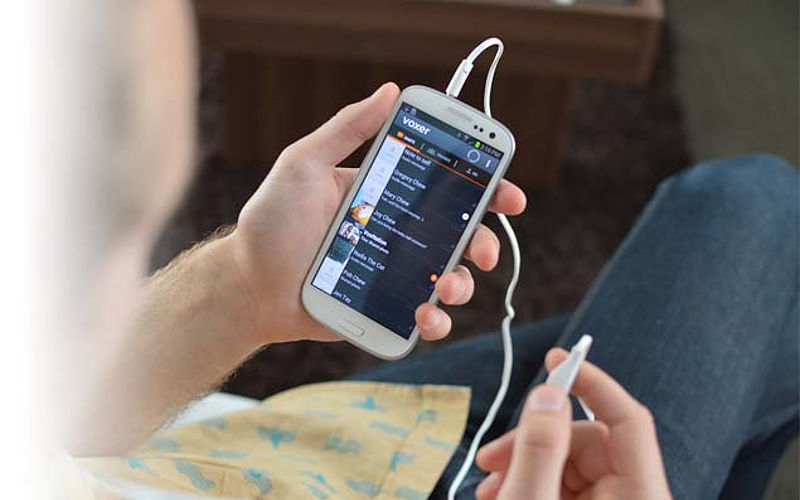 We love Voxer, so whenever we see a new feature launching, we can't help but smile a little, especially when those features bring the push-to-talk (PTT) app up to a whole new level.
That's the idea behind the company's new "Walkie Talkie" mode for Voxer Business users, which converts smartphones into push-to-talk (PTT) devices for live communication. Listening to messages stream out live, or using a wired speaker mic or headset, users can receive and respond to voice messages in real-time, without having to keep Voxer open on their smartphones or other devices, such as iPods or iPads. The communications are recorded, enabling playback at later times, and employees can manage group communications and respond to messages via a desktop Web interface.
This works as an alternative to carrier-specific PTT solutions, which aren't too friendly when it comes to the "Bring Your Own Device (BYOD)" trend. It's also not feasible if you have employees who might be in other countries, something that doesn't matter with Voxer. Live-only messaging is supported exclusively on these devices, which means you might miss an important message. Voxer works around it and allows messages to be delivered as long as a data connection is present, and they can be listed to repeatedly.
"Carrier-based PTT solutions aren't keeping pace with the demand of growing workforces across the globe"
The new version of Voxer Business also includes:
Headset support: Voxer Business officially supports headsets from Savox, iAsus and Apple earbuds, and also works with other wired headsets, so users can communicate entirely hands-free, without opening the app on their device.
Redesigned iOS interface: Intuitive and consistent with the iOS flat design, provides control and emphasis of the content, along with a larger button for easy access.
Read receipts: Users can now see if their message has been read by others, for better tracking of communication. Read receipts appear on a per user basis for group chats.
Easy Talk Widget for Android: Android users will now have access to Voxer Business right from their home or lock screen, and can send and receive messages without opening the app on their device.
Forwarding messages: Android and Windows Phone users can quickly forward messages to other users.
"Carrier-based PTT solutions aren't keeping pace with the demand of growing workforces across the globe. Traditional PTT has limitations on the devices and providers that can be used, while two-way radios are expensive and an unnecessary addition to carry around ," said Irv Remedios, president, Voxer. "Voxer Business' walkie-talkie mode enables companies to replace these older PTT solutions with a modern, easy to deploy and cost effective solution. Employees can use any device or carrier they want and are not locked in to any type of contract, providing the ultimate flexibility in business communications."
Voxer Business is available at $9.95/user/month, and the new version is available as a free update to existing users on Windows Phone, Android, and iOS. For a free 30-day trial of Voxer Business, sign up at http://www.voxer.com/plans-and-pricing/.