HelloWorld: Communicate With Your Friends Both Near and Far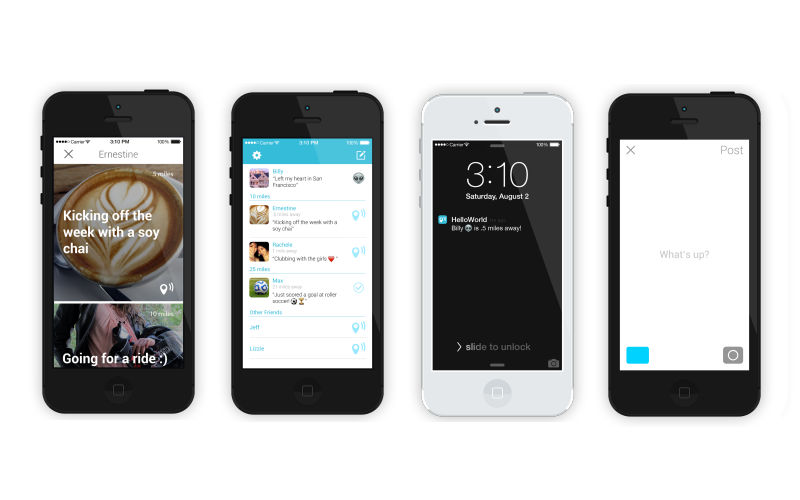 HelloWorld has a new vision for how we use social mobile apps to communicate. They believe in fostering the kind of fun, serendipitous social encounters you get from running into a friend on the street. It's about the most basic form of communication and socializing, asking your friend "What's up?" And then asking questions that stem from that, like "Where are you?" and "What are you doing?" The app captures just the right amount of context and connectedness for communication.
HelloWorld was coded over a 24-hour hackathon. The team launched an initial version of the product just a few hours into the hackathon, and then spent the remaining event time adding additional features.
"Creating HelloWorld at a hackathon is exactly in line with our team and product philosophy," shares team member Ernestine Fu, "because it's a casual, almost serendipitous event where you get together to have fun with friends."
"Creating HelloWorld at a hackathon is exactly in line with our team and product philosophy"
The team behind the product is particularly impressive. Ernestine Fu sourced and led multiple deals at venture capital firm Alsop Louie Partners. Michael Carter was an early contributor to more than a dozen open source projects, including nodejs, and was recognized by the World Wide Web Consortium (W3C) for designing the first WebSocket protocol. Max Goodman received a CS degree in his teens and wrote Reddit's first browser plugin. David Li built and raced solar cars through the Australian outback, as well as worked on the client-side JavaScript framework now powering Google+ and several other teams within Google. Jeff Himmelman was an artist at Warner Brother Games and freelance illustrator. He has worked for clients such as Wizards of the Coast, Rio Grande Games, and Fantasy Flight.
HelloWorld's top priority is making sure users feel fun and safe to communicate whatever is on their mind, no matter how seemingly frivolous. They think that people are going to be more connected if they share what's on their mind, what they're up to, and where they are.
"The activity feed is the center of your world," says Himmelman. All your friends and their last udated proximity to you are listed along fun status updates. Status updates in your activity feed are ordered by how far someone is from you.
Dynamic locations is one particularly compelling aspect of HelloWorld. The proximity of all posts are updated relative to your current location every time you open the app.
"This allows you to interpret the world from your current context," shares Li, "When we moved from the hackathon to a happy hour a couple miles away, all our previous activity was moved out of our proximity and thus a bit lower on the activity feed."
"We're proximity-based, not location-based"
When you tap on the blue location ping icon, you can ping friends directly. They will receive a notification with your name, emoji, and proximity to them. When you send a ping to friends, you share the distance you are from them, in terms of number of miles away.
Goodman emphasizes, "We're proximity-based, not location-based."
HelloWorld focuses on making it easy to let your friends know your proximity to them, without divulging your exact location. This particular feature distinguishes HelloWorld from FourSquare and other apps that limit you to checking into a location. You can scroll through an individual friend's status updates. Your proximity once again updates as you move closer or further away from where the post was taken. When you tap on the location ping icon, you can also ping that friend directly.
The moment you open HelloWorld, you are asked "What's up?" and encouraged to post a status.
"That's the kind of normal, basic question that humans ask each other multiple times a day," shares Carter. HelloWorld encourages you to answer that question and share with friends.
Posting a status update is simple: type your message, hit post. You're done! You can also add colored or photo backgrounds. Your proximity is automatically broadcast to friends every time you post.
One competitor to HelloWorld is Facebook Nearby Friends. Facebook uses statuses, locations, and nearby to provide users a similar kind of sharing. Its Nearby Friends feature tracks every step a user takes and puts it on a permanent map. HelloWorld says it takes a different approach: user control over monitoring, and proximity over exact location.
Location-tracking service Glympse and Kik Messenger are also making moves in the space. They recently partnered together to provide consumers with real-time location sharing.
Darren Austin, vice president of product at Glympse, has shared goals of "a new wave of messaging that does more than just static text."
creating a fun environment for sharing
Currently, HelloWorld is an exploration project. The goal of HelloWorld is to create a fun environment for sharing, almost whimsical even, so that people feel comfortable posting regularly. The team has taken a similar approach the project.
"It's a fun exploration and a creative collaboration," shares Fu, "We're building something fun and serendipitous."
Download and learn more about HelloWorld: http://yourhelloworld.com/.
The preceding post was written by Buster Zalkind. He does Operations and Strategy for Weeby.co, a messenger-first mobile gaming technology company. His colleagues and friends were on the hackathon team.