BuzzFeed has just announced a partnership with WeChat to bring news and entertainment content beyond BuzzFeed's 175 million users globally to the 468.1 million users of Tencent's popular messaing app.
BuzzFeed is now offering its share worthy content on WeChat as its first major international social communications partner – a big step in broadening the perception of messaging apps as more than just tools for communication, but as entire content platforms as well.
The partnership with WeChat is BuzzFeed's "first major partnership with an international messaging platform"
"As we start to see an increase of readers share content via private messaging, coupled with the rapid growth of mobile, we're looking for new ways to distribute news and entertainment to our thriving international audience," said Scott Lamb, VP of International at BuzzFeed. "WeChat's innovative technology and strong international user base is a natural fit for our first major partnership with an international messaging platform."
Following the BuzzFeed account on WeChat will allow you to chat with BuzzFeed in order to receive personalized news and entertainment content on your iOS, Android, or Windows Phone device. You'll get:
a daily piece of viral content circling the web directly on their smartphones.
The ability to chat with BuzzFeed for customized content with special keywords such as cats/dogs/lol/omg/fail/win/wtf, which will be updated on an ongoing basis.
Ability to easily share their favorite BuzzFeed stories on WeChat to friends through chats or Moments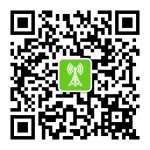 With more than 50M unique visitors coming to BuzzFeed each month from outside the US and over 50% of BuzzFeed's traffic mobile, the partnership will propel both mobile growth and sharing via messaging services even further, the company said in a press release. WeChat's significant international growth, as seen by an active user base increase of 156% globally between Q1 2013-Q3 2014* is coupled with BuzzFeed's aggressive expansion with international editions now available in English, Spanish, Portuguese, French and German.
You can follow the official BuzzFeed account by scanning the QR code on the right. Be sure to scan the TruTower QR code to stay up to date on all the latest WeChat news and content!
Before you can scan, of course, you'll want to get the latest version of WeChat.