Viber has launched a new gaming platform for its popular messaging and calling application, marking the third major release for Viber in three months, following the addition of Mobile Video Calls and Viber Public Chats, as well as numerous other features.
Viber has partnered with a number of leading game developers to bring unique gaming experiences to the platform featuring Viber characters and exclusive content. Viber Games is now available in Belarus, Malaysia, Israel, Singapore and the Ukraine and will be rolled out to the rest of the world in a staggered release.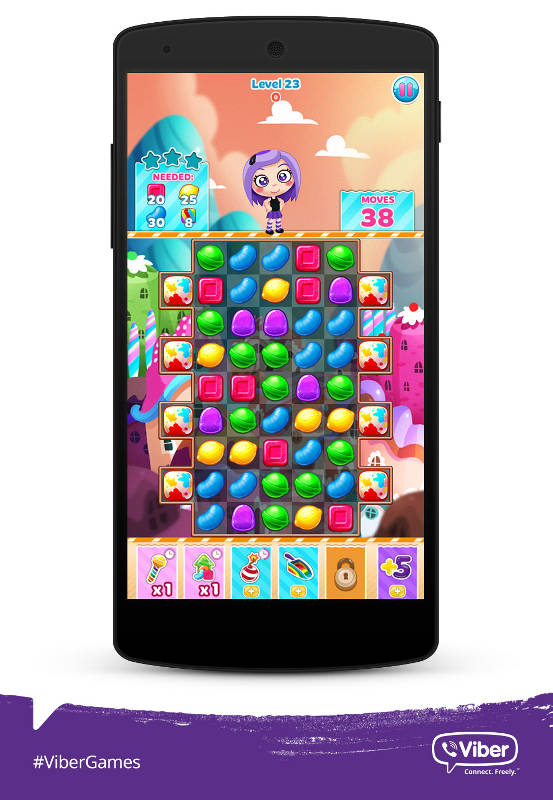 The launch line-up features Viber Candy Mania and Viber Pop from leading mobile game network Storm8 and Wild Luck Casino from leading casual games developer, Playtika. The games were built using the Viber Connect API, which allows users to sign in with their Viber ID to connect with their friends and contacts on Viber, send them gifts and brag about their achievements. Additionally, users will be able to send game invites via Viber, and see what games their friends are currently playing.
The games will be promoted via the Games section and will be free to download via Google Play and the App Store. Access to additional features will be available via in-app purchases.
"We have been focusing on broadening the functionality of Viber and are really excited to unveil Viber Games"
"We have been focusing on broadening the functionality of Viber and are really excited to unveil Viber Games," said Talmon Marco, Viber CEO. This major expansion of our platform gives people another completely new way to connect with Viber. It's an important step for us and we are looking forward to the response from our users."
Viber Games will take on the Viber brand look and feel, and feature many of the characters that have already become popular staples of Viber's Sticker Market, giving the games a unique look and feel when compared to LINE Games, Tango Games, and games from other messaging apps.
"As a pioneering leader in mobile social games, we're committed to partnering with companies that expand our reach and provide innovative player experiences," said Terence Fung, Storm8 Chief Strategy Officer. "We're delighted to be a launch partner for Viber Games, debuting two new Storm8 titles that bring to life Viber's popular characters and offer a new level of social interaction among friends."
"This partnership opens up a new channel for Playtika to introduce our world-renowned social slots to Viber users via a new game we developed specifically for Viber – Wild Luck Casino," said Elad Kushnir, VP of Business Development at Playtika. "We are excited to take advantage of Viber's existing communication channels to add another layer to the game experience."
Three games will be available at launch:
Viber Candy Mania by Storm8 – Sweeten your day with a delightful new game! Follow Viber's popular sticker characters Violet and Legcat through the levels, as you match and collect candies in this sugar-filled puzzle adventure.
Viber Pop by Storm8 – The best bubble puzzle adventure game yet! Defeat the Evil Bubble Wizard and rescue little buddies. And, for the first time ever, you can play with your favorite Viber character, Legcat!
Wild Luck Casino by Playtika – From the makers of Slotomania, an authentic slots experience is at your fingertips with an exciting range of games to choose from. Play with your friends to win free coins and prizes, then share the good vibes by sending gifts.
Additionally, Viber Games will provide users with multiple new ways to interact via Viber, including:
Gift sending: Send gifts to your Viber friends; receive rewards for the more gifts you send
Leaderboards: See how your scores stack up versus your Viber friends'
Invite friends: Invite your Viber friends to download the games to play with you
Bragging: Tell your friends when you beat their high scores
Friend progression: See what levels your friends have reached in the game
See what games your friends are currently playing.
Viber Games is expected to be available worldwide by January 2015, with more games added to the line-up soon after.