LINE WOOPAROO SAGA is a new casual defense game for iOS and Android that also marks the newest addition to the popular LINE GAME platform.
LINE Wooparoo Saga features over 500 characters known as "wooparoos", mystical life-forms created by an all-powerful "higher being," that players can train and use to battle opponents, similar in tone to Pokemon or some online monster training games.
In fact, the game should prove familiar but different to anyone who's a fan of monster battle games or RPGs in general. In LINE Wooparoo Saga, you choose from your collection of characters to create a strategic deck (team) of wooparoos based on the skills each beast possesses.  Tap one during battle to trigger their special skill or make them repeatedly attack a target. Acquire new characters by defeating stage bosses to add them to your collection.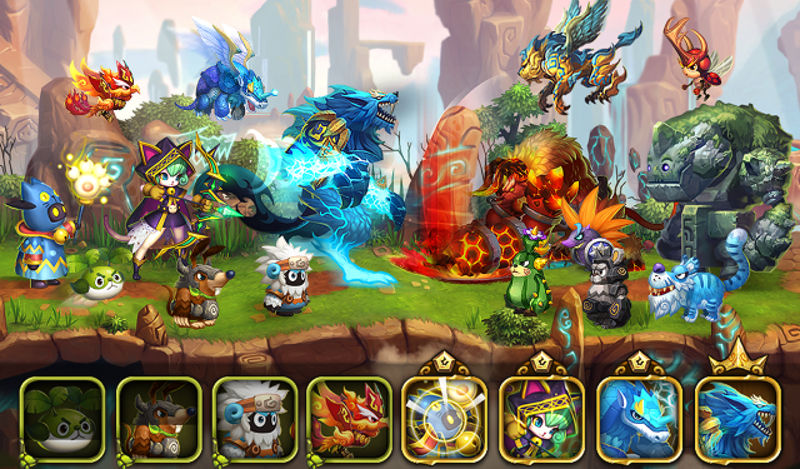 During battles, you can earn Mana Orbs and other items to power up your characters. In addition, like most monster training games, the Wooparoos in LINE Wooparoo Saga can be evolved —  there are 3 to 4 different stages of evolution each — and can also be combined to push the evolutionary cycle a little faster. Over 500 different Wooparoos are available in the game, giving it some incredible replay value for anyone who just has to get them all.
LINE Wooparoo Saga features some pretty incredible graphics and landscapes in which you must battle and solve puzzles to train and evolve your Wooparoos. There are also different modes available to play with, including Infinite Arena, in which you must defend yourself against an endless onslaught of enemies.
Of course, it wouldn't be a LINE game without some kind of social aspect, and LINE Wooparoo Saga goes pretty deep in this regard. In addition to a real-time player versus player (PvP) mode that lets you go head-to-head with LINE friends and other players, the game also features real-time messaging features that let you communicate with friends and even allows the sending and receiving of emoji.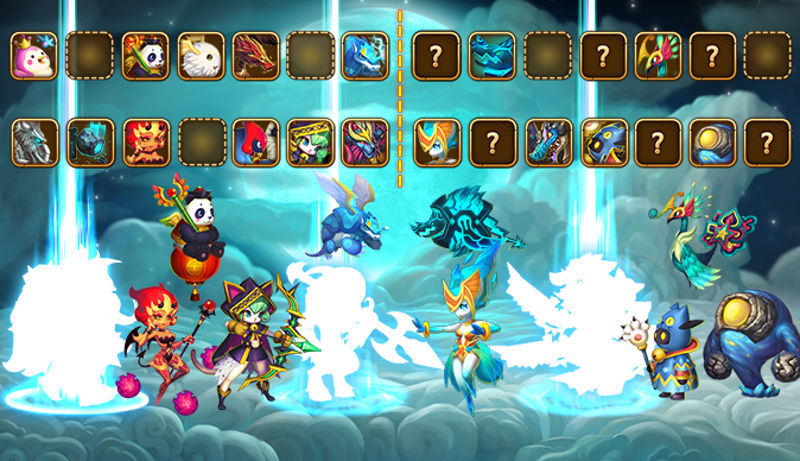 To celebrate the release of the game, LINE is offering up four events that run through June 30, though it does note that events may be extended:
1. Who's the Boss
Defeat the first boss Ururi to get 20 Gems as a special reward! Defeat the second boss Yeti to get 3 Friendship Gacha Tickets.
2. A Whole New World
Defeat Totem Tree, the boss of the first world, to get a Premium Gacha Ticket and a chance to earn a rare wooparoo.
3. Buff Up Your Wooparoos
Collect participation tickets given out every time you power up a wooparoo. After saving up a certain amount of tickets, they can be exchanged for the chance to play a special lottery that features rare characters, Premium Gacha Tickets, Gems, and other in-game items as prizes. (*Players can join the event from inside the app.)
4. Friend Invitation Event
Event 10 LINE friends to play the game to get 20 Gems, 20 friends for 30 Gems, 50 friends to get a 4-Star Mint wooparoo, and 100 friends to get a 5-Star Kai wooparoo.
Ready to train and evolve? Download LINE Wooparoo Saga via the iTunes App Store or Google Play Store for free.