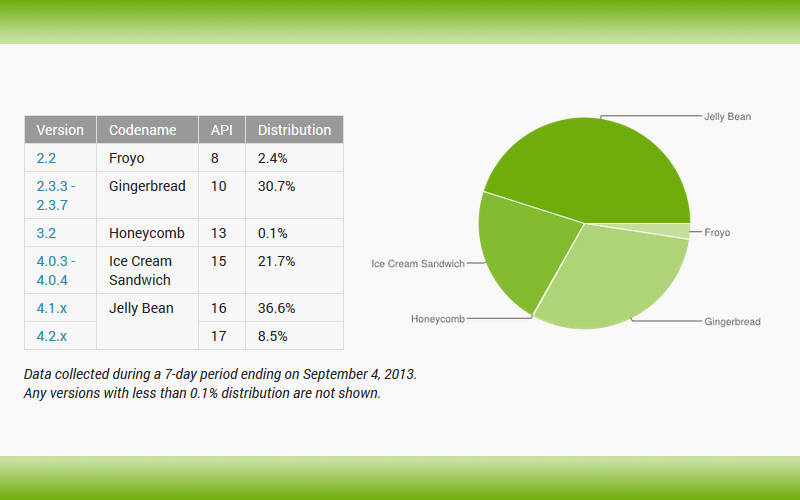 Another month. Another chart. Last month's developer distribution chart showed Android Jelly Bean (Android 4.1 and Android 4.2) overtaking Gingerbread for the first time ever. This month's chart sees this new-found dominance solidify further, hopefully a sign that the dreaded "Android fragmentation" curse is starting to become a thing of the past.
Android Jelly Bean grew to 45.1 percent on this month's chart, up from 40.5 percent last month. Gingerbread, meanwhile, continued to slip, and lost 2.4 percent of its share from last month, moving from 33.1 percent to 30.7 percent. Needless to say, it's apparent that Gingerbread's long standing as Top Droid has come to a permanent end.
As for Ice Cream Sandwich, it held pretty steady, though it too dipped slightly, dropping from 22.5 percent to 21.7 percent. Still, there are a decent number of devices out there still running Android 4.0.
Rounding out the list are Froyo and Honeycomb, both of which still managed to hold still and maintain their dwindled share of the market with 2.4 percent and 0.1 percent, respectively. Froyo lost 0.1 percent since last month, but that's a small loss when compared to the drop between August and July's distribution chart.
Post navigation