Android 4.1 Jelly Bean Unveiled By Google At I/O 2012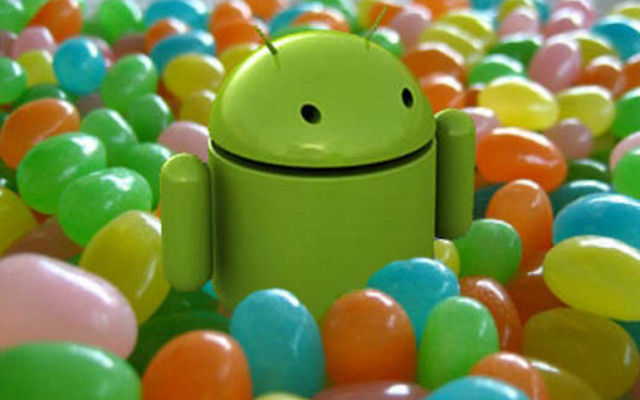 It's seems like only yesterday that the world was getting ready to enjoy a nice, cold Ice Cream Sandwich. It was only six months ago to be exact. Most of the Android community has yet to see the ICS update on their devices, but that isn't stopping Google from moving forward with it's new iteration, Android 4.1 Jelly Bean.
Today Google officially took the wraps off Jelly Bean, and the new OS looks sweet. True, it's not as "revolutionary" or "game-changing" as ICS was, but it nevertheless marks a steady move down the road to improvement for the entire Android ecosystem. Let's take a peak to see what's inside the Jelly Bean jar.
One of the biggest features is Project Butter, an effort to improve performance and response time and get rid of the lag that Android phones are notorious for. At 60 FPS now, you may not notice much of a difference until you try to run Jelly Bean next to an ICS device. The experience is jarring. Animations are smoother and quicker. The CPU immediately jumps to life the moment a touch is detected.
New features have been added to the home screen. Apps and widgets can be removed by flicking them off the screen. In addition, users will now have the ability to dynamically resize widgets. Gone are the days when you had to place the widgets before resizing and then moving them. If there is room, but you app icons are in the way, the widget will automatically push them to the side. Another extremely welcome touch is the addition of offline voice input. Now you can tap the microphone and dictate a message even with the phone in airplane mode, very useful for Tru SIM users who find themselves stuck in an area with little or no coverage.
One of the best features in Ice Cream Sandwich was the camera app, and with its slick new integration, it has gotten even better with Jelly Bean, allowing new and improved navigation for viewing, deleting, and even restoring your photos with simple taps, swipes, and flicks. For instance, deleting images is as simple as swiping a pic off the screen and, if you've manage to accidentally removed one, a quick tap of the undo button restores it. In addition, pics and videos can be shared through Google Beam.
Hugo Barra, Director of Product Management, even introduced new search integration refinements, with a completely revamped "faster, more natural" voice search experience and UI, using graphical cards to display Wikipedia, restaurants, and weather search queries. You can dismiss the cards and see full search results with a simple swipe.
In addition, Google now, a personal search that anticipates your needs based on browsing and navigation history, was introduced. In the demo, Barra showcased how the new system could help to calculate a user's commute, replete with alternate route suggestions and even scheduling info, recommend nearby restaurants as they're passed and keep users abreast of impending appointments with departure time recommendations.
Excited for Jelly Bean? Well, many of you won't have too long to wait. The Android 4.1 update will be coming mid-July for Galaxy Nexus, Nexus S and Xoom devices, so you'll be the talk of the Tru Android community. For the rest of us, we'll just have to be content with the very idea of Jelly Bean and hope that we'll be part of the 1% that will have the new OS on our devices come January.