BlackBerry 10 Jam World Tour Continues into July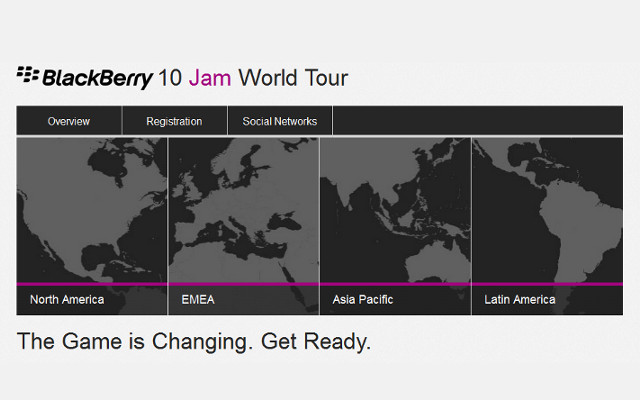 Even though Research in Motion has delayed the BlackBerry 10 OS Release Date to next year and has been experiencing hard times as of late, the company is continuing full force with its BlackBerry 10 Jam World Tour, looking to get developers interested and excited in its upcoming platform.
Tru is among those already on board and has said that its new voice over IP application could be launched alongside the new BB10 operating system. Unfortunately, RIM's delay could have delayed the VoIP app as well.
Still, July looks to be the busiest month in the BlackBerry 10 Jam World Tour, and it's possible that more news will be released regarding the new OS and the new application.
Bangalore India will be the first to welcome the BB10 Jam World Tour this Tuesday, July 3, followed by Warsaw, Poland on July 3 and Delhi, India on July 4. China will welcome the tour to Beijing on the 6th before they make a stop on the 9th at Singapore and on the 10th at Jakarta, Indonesia. Dubai in the United Arab Emirates will see and experience BB10 love on July 10. From there, the tour will make its way far south to Sydney Australia and will cap July off in Cape Town, South Africa.
The BlackBerry 10 Jam World Tour will then continue into August.
To see a full listing of locations past and locations coming, don't forget to check out the source link. Are you ready for the BlackBerry 10 experience?