Nearly One Million Surface RT Tablets Sold in 2012, iPad, Samsung Top Sales Charts
The IDC recently released a report regarding the tablet market and its unexected growth in the fourth quarter, the same quarter that Microsoft's new Surface RT joined the tablet ranks.
According to IDC data, the Apple iPad took the top spot with 22.9 million units shipped, thanks to a strong showing from the new iPad mini and iPad 4th gen. Samsung was a distant second, experiencing 263% year-on-year growth and shipping just shy of 8 million Android and Windows 8-powered Ativ tablets. Apple holds 43.6 percent of the market, compared to Samsung's 15.1 percent.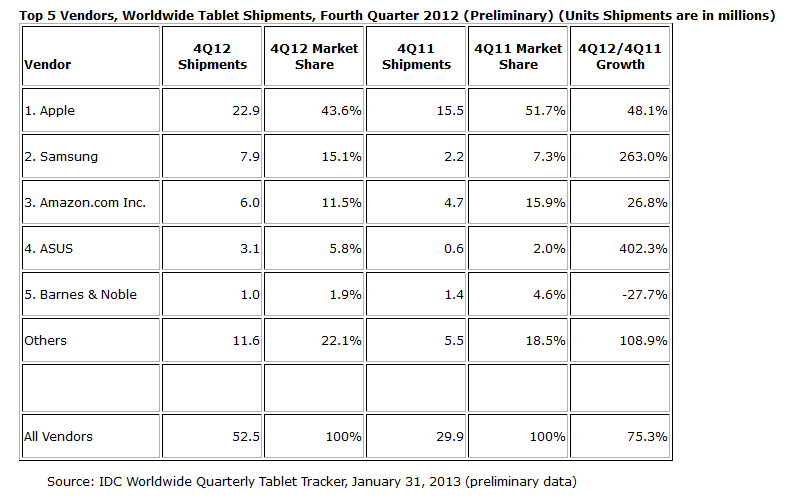 Microsoft didn't perform very badly at all, having only entered the market late last year. Within that short time, the company shipped just under 900,000 Surface RT units. Still, Ryan Reith, program manager, Mobile Device Trackers at IDC had the following to comment on the company's performance:
"There is no question that Microsoft is in this tablet race to compete for the long haul. However, devices based upon its new Windows 8 and Windows RT operating systems failed to gain much ground during their launch quarter, and reaction to the company's Surface with Windows RT tablet was muted at best.

We believe that Microsoft and its partners need to quickly adjust to the market realities of smaller screens and lower prices. In the long run, consumers may grow to believe that high-end computing tablets with desktop operating systems are worth a higher premium than other tablets, but until then ASPs on Windows 8 and Windows RT devices need to come down to drive higher volumes."
Many users have held off for the forthcoming Windows 8-Pro powered version of the Surface, so this number is likely to increase greatly in the next quarter or two. It is definitely going to be an interesting year for tablets.