Review: Squared Game For Kik Messenger is Simplistic, Fun and Challenging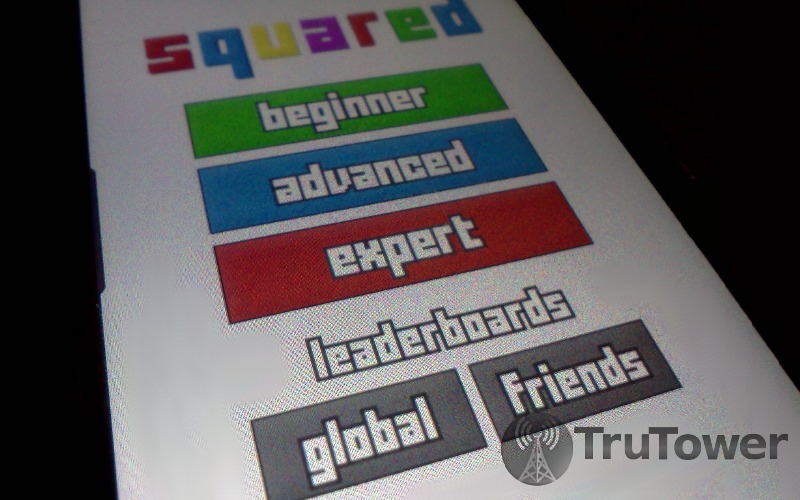 We're not always all about work. We like to delve into fun and games too. While there are of course the usual trove of downloadable mobile games available in the various app stores, often it's the most simplistic gaming idea imaginable that keeps us entertained for hours. Ideas such as Squared, a game that was rolled out in last month's Kik Messenger update for Android and iPhone. If you haven't already, you can find the latest Kik version here to download.
Squared may be a simplistic idea, but the game itself is not always so simple. When you first start the game, you're given three difficulty options (as you can see from the photo above). If you're not yet familiar with how to play, you'll want to start at the Beginner level until you become accustomed to the rules and mechanics.
Scoring points is simple enough. You'll see a grid similar to the one pictured below that features multiple colors. The idea is to use your finger to connect as many squares as possible that are the same color (two-colored squares can be used for one color or the other). The larger the combination of squares you match, the more points you receive. There are also event squares such as clocks, which add time to the countdown timer, bombs that must be cleared before their respective timers reaches zero, and lock squares, which prevent you from interacting with that particular square until the lock's timer runs out.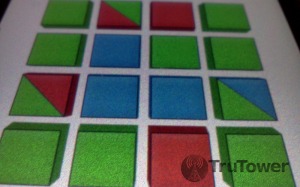 There are also leaderboards available that allow you to compare scores with your Kik friends and with Kik players globally to see who has the better Squared skills.
As with the other Kik cards, the Squared game is really well integrated into the Kik Messenger application and is easily accessed through the app's "More" menu. We haven't had any issues with its performance, even on our older Android devices.
As for the gameplay itself, Squared may not have the additional game modes or challenges, the unlockables, or the multiplayer options that some people may prefer in their mobile gaming experiences, but the absence of these features does little to tarnish the addictiveness that Squared offers (that being said, a live multiplayer option would actually be quite fun). Squared offers old-fashioned game play with a modern "Kik" and we couldn't help but become obsessed with beating our own top scores in all three modes.
In reality, the game has the feel of a kind of modern Tetris. There's not really much to speak of as far as depth (which is to be expected of a game build specifically as an add-on for a messaging application), but it does offer a number of elements and random game boards to keep the gameplay fresh and fun every time.
Arguably, though, the best part of the gaming experience is seeing the unmasked disappointment on our friends' faces when they've discovered that we beat their hard-earned top spot on the Friends leaderboard again — it's awesome.
Find more fun Kik tips, add-ons, games, and news on our official Kik Messenger page!