LINE Play Reaches 10 Million Users Milestone, Celebrating With In Game Events Galore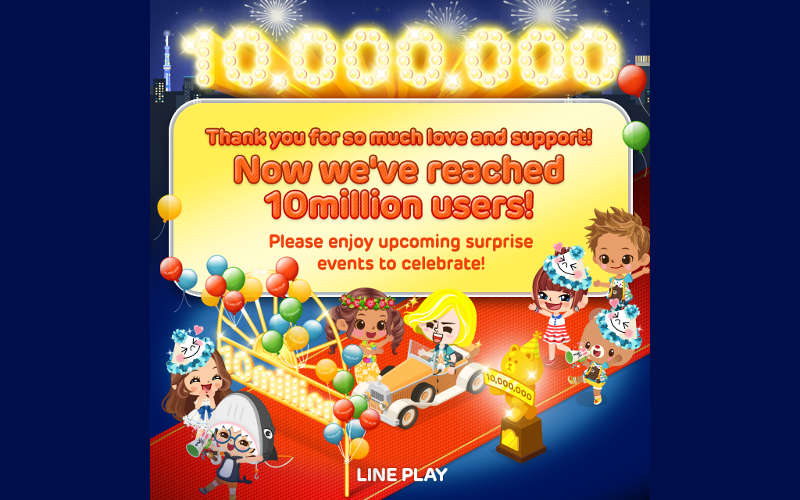 LINE Play has been growing very fast alongside its parent application, which recently hit the 200 million total user mark, the highest point it's ever been. Now there is even more for LINE users to celebrate as the company has announced that LINE Play has crossed the coveted 10 million user mark.
Long time TruTower readers will remember that the LINE Play app hit 9 million users a little more than a month ago, so for the game to grow by a million users in that little amount of time is nothing short of phenomenal. LINE Game has been experiencing similar spurts of growth.
LINE will be taking part in its annual Hello, Friends in Tokyo 2013 event on August 21, so it's very possible it could be celebrating 11 million LINE Play users at that point in time.
To celebrate hitting the 10 million user mark on LINE Play, the company will be holding a number of special events for its users, which we've listed below.
Event 1 – Bonus Gems Event.
Event Period:

-From now until midnight, August 4th (Sun), GMT+9

Event Details:

-Get 20%~30% more Bonus Gems with each charge!
*Additional event bonus Gems will be given on top of the standard bonus Gems with each charge.

Event 2 – Distribution of presents

Event Period:

-From now until midnight, August 4th (Sun), GMT+9

Event Details:

-Users who access LINE PLAY during the event will receive a special present from James (Each user can only receive the present once)

Event 3 – Renewal of James's room and release of Legend Gacha collections

Event Period:

-From now until midnight, August 4th (Sun), GMT+9

Event Details:

-To celebrate the breakthrough of 10 million users, legendary Gacha machines which many of you have loved will be coming back to LINE PLAY!
Different Gacha machines will be revived in James's room every 3~4days.
Maybe, just maybe, you'll find some special Gacha machines available only here!
Don't forget to visit James and check out the Gacha machines in his room every day!

Release Dates:

-July 25th(Thu) ~ Aug 4th(Sun)
~10 Million Event? Gacha ~

-July 25th(Thu) ~ Aug 28th(Sun)
legendary Gacha machines#1
~Sugar Bubble Bath ~
~Black Kitty ~

-July 29th(Mon) ~ July 31th(Wed)
legendary Gacha machines#2
~Black Devil ~
~Persian Kitty ~

-August 1st(Thu) ~August 4st(Sun)
legendary Gacha machines#3
~LINE Café ~
~Wonderland#3 Heart ~

Event 4 – NEW! Release of LINE characters Gacha collection
A new addition to the ever popular LINE characters Gacha series!
Moon, Brown, and Cony have come to LINE PLAY again!

Release Dates:

-July 26th (Fri) : Moon Gacha
-July 30th (Tue) : Brown Gacha
-August 2nd (Fri) : Cony Gacha
*Check out the Release date of the Gacha machines from the Notice section!
To take advantage of these events (and if you haven't already done so), you can download LINE Play directly from Google Play or iTunes. Find out more about LINE app and view additional recent news and content on our official LINE app page!