Let's face it, Kik just wouldn't be Kik without friends there to make it a blast, and amassing a list of contacts you hardly know doesn't really make Kik (or any messaging app) all that fun.
So how can you find your friends on Kik? There are a number of ways, really. One of the most obvious ways is to simply ask, but if you're like us, this isn't the best way to go about adding friends en masse. Arguably the best way is by utilizing the friend finding feature in Kik itself.
Arguably the best way to find friends is by using the address book matching feature in Kik
First, you'll want to make sure you have downloaded the most recent version of Kik for your device. Also, make sure you have your exact phone number registered on your Kik account to insure your Kik friends will be able to locate you. Android does this for you automatically.
On Android, the friend finding feature can be accessed from the conversation list by tapping the Settings icon (cog) on the top right of your Kik application window. From there, tap Privacy, which should be the fourth option below your profile picture. Now select Address Book Matching to find friends from your address book contacts.
On iPhone and iPad, the process is quite similar. The Settings menu is located at the top left of the conversation view. Simply select this icon and you'll be taken to the Settings, where you can select Privacy. Once you've done so, you should be able to find Address Book Matching as the very top option.
Windows Phone users can find the Settings menu on the bottom of the conversation list as shown in the screenshot below. From there, it's virtually identical to iOS and Android: select Privacy and then select Address Book Matching.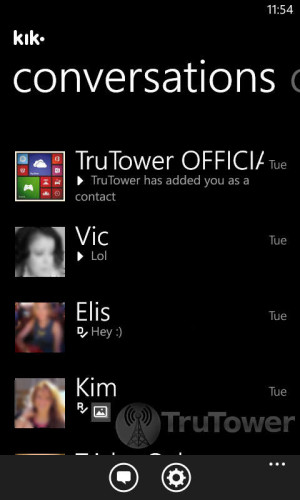 In all of these cases, it's a good idea to start a conversation with each friend to make sure they're added to your Kik friend list. The latest version of Kik for Android and iOS gives you the option to add your friends to your contacts without sending them a message, but a "Hi, how are you?" never hurt anyone!
Invites are a great way to add friends who don't have Kik Messenger yet
The Address Book Matching is a great way to find friends on Kik, but what if your friends don't have Kik yet?
We can simply send them invites through the application; these invites can be sent via SMS message, email, or social networks such as Twitter and Facebook. The process of finding your friends for Android and iOS is exactly the same: select the Tell Friends About Kik option under Settings. For Windows Phone 8, the option is listed as Invite a Friend. Once you've done so, you can select how you want to invite your friends as described earlier.
Now that you have your friends added and invited, you're ready to start Kik'n! Don't forget to try out a few Kik Games with your friends!