Apple's iPhone 5c, iPhone 5s Officially Announced, Bringing iOS7 Along For the Ride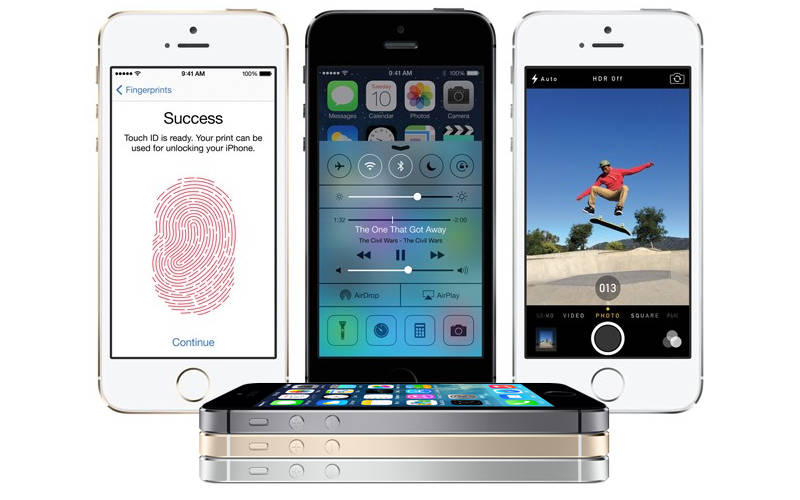 Not surprisingly (thanks to an early warning that hit last month), Apple has just announced the iPhone 5s and its "low-end" iPhone 5c, both sporting the new iOS7 (and both sporting lower-cased letters at the end of the name), which will also arrive for current iPhone 5, iPhone 4S, iPad mini and third and fourth generation iPad owners on September 18th (later for iPad 2 and iPhone 4 owners).
As is customary with a new letter addition, one can almost predict that the outlying hardware will be very similar between last year's iPhone and this year's. The iPhone 5s is no exception, but it does come with new color choices — silver, space gray and gold. What's different besides the color, however, is on the inside rather than the outside.
The iPhone 5s sports an A7 chip and wins the title of world's first 64-bit smartphone with OpenGL ES 3.0 on board, while maintaining 32-bit compatibility. The new model tromps the old iPhone 5 with improved performance and graphics. The CPU and GPU promise speeds twice as fast as its predecessor. The 5s also monitors motion data in real-time, with help from the accelerometer, gyroscope and compass.
The 8-megapixel camera has been improved with f/2.2 aperture and a sensor that's 15 percent larger than the previous model and brings enhanced light capture. You'll be able to work with 10FPS burst mode, 120FPS 720p slow-motion video mode. Rounding out the camera features is a dual-LED flash for "true tone" colored images.
The smartphone features 4G LTE connectivity like its predecessor, with up to 10 hours of browsing on LTE and 10 hours of talk on 3G. A "Touch ID" fingerprint scanner allows users to secure their devices with nothing more than a fingerprint. Of course, this could prove problematic for people wearing gloves or after a serious finger-tip-based battle with super glue.
The handset will hit preorder status in 3 days, where it will remain for another week before making the trip to Apple stores on September 20 in the United States, Australia, Canada, China, France, Germany, Japan, Singapore and the UK. For those outside those countries, you'll unfortunately have to wait until December or longer; Apple has plans to send the iPhone 5s to over 100 countries by then. Pricing starts at $199 USD for the 16GB version, $299 USD for the 32GB edition, and $399 for the 64GB model. You'll be required to have a two-year contract for these prices. For those of us on contract-free carriers, we'll have to shell out $649, $749, or $849 USD for the 16GB, 32GB, and 64GB unlocked models respectively.
Then there's the iPhone 5c (shown above), Apple's answer to the low-end market currently dominated by some Samsung Androids and some Nokia Windows Phones. The 5c's 4-inch retina display and A6 processor shouldn't be too bad for someone who accidentally breaks their iPhone 5 or is looking to upgrade from the original; it's basically an iPhone 5 re-released with a new name, a colorful plastic shell, and improved battery. This is especially true due to the iPhone 5 being phased out as of this announcement. The iPhone 5c even has the same 8 megapixel camera as the iPhone 5, with an improved FaceTime HD camera for better video calling.
No contract and SIM free pricing for unlocked models runs $549 for the 16GB model and $649 for the 32GB model. Like the Apple iPhone 5s, the iPhone 5c will be available in the US, Australia, Canada, China, France, Germany, Hong Kong, Japan, Puerto Rico, Singapore and the UK on Friday, September 20, and customers can pre-order their iPhone 5c beginning Friday, September 13, with other countries coming at a later date.