Voxox App Looks to Be Different, Pushes Communication Features Beyond VoIP Calls and Messages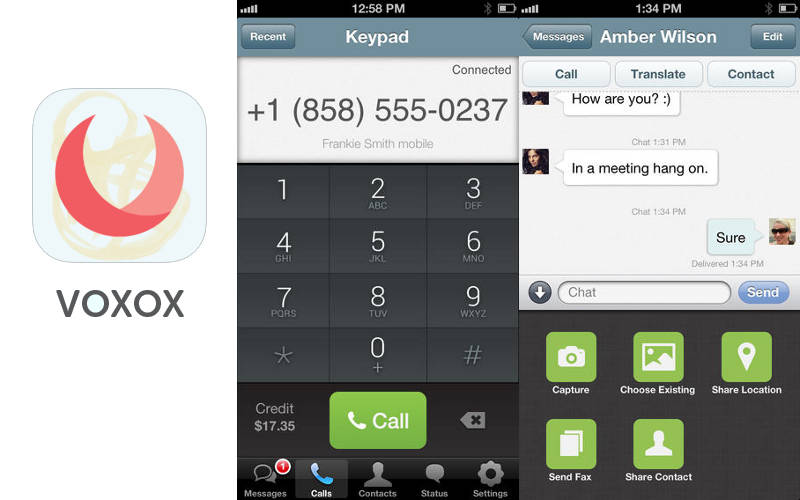 The OTT application space has certainly become crowded as of late, with new apps launching seemingly every day. Many of these apps strive to offer unique features in order to differentiate themselves from the pack. One of these apps is Voxox.
Voxox (not to be confused with Vox or Voxer) is a free application available for iPhone, iPad, and iPod Touch (and in beta for Android) that unifies voice, text, chat, video, social media, email, fax, and content sharing in one app that "reduces communication overload" and "simplifies the messaging experience."
Voxox lets its users communicate to other Voxox uses for free while allowing communication to other apps and phones at low rates. As a licensed carrier, Voxox is able to assign users a free US phone number to utilize during such outside communications, and it works regardless of operating system or device. The company spotlights this ability as a "key differentiator" from competitors such as Skype and WhatsApp Messenger.
During a call, Voxox allows users to record the call while also viewing and playing back recordings in the app. In addition, the app offers conference calling for up to 20 users simultaneously. Other features of Voxox include:
Photo/Video Sharing – Capture photos/videos with Voxox or share from your phone's camera roll
Location/Map Sharing – Let your friends know where to meet you with the click of a button
Contact Sharing – Easily share contact info from your address book
Offline Messages – Push notifications let you know when someone is trying to reach you
Friend Finder – Voxox imports your contacts and automatically finds friends who use Voxox so you can communicate with them for free
Voicemail to Text – Voxox can turn your voicemails messages into text messages
Find Me – Forward incoming calls to up to five other phone numbers
Language Translation – Voxox can automatically translate the text messages you send and receive to / from dozens of languages
If Voxox sounds like it could be the messaging app for you, you can download it right now.