Group video calls are a great way to socialize with a large group of friends and family members and also a great tool to utilize when conducting a presentation to a group of colleagues and coworkers. Coupled with the Skype screen sharing feature, it can also give you an opportunity to share and discuss internet discoveries en masse.
Regardless of how useful the feature is, using it for the first time can be a pretty daunting experience. Luckily, it's a feature that anyone can master in time.
Before attempting to make a group video call, we must first get through with the nitty-gritty of the beforehand requirements. You'll want to make sure you have the latest version of Skype downloaded on your device.
It's important to note that a fair use policy applies with video calls. As of this writing, this fair usage limit consists of 100 hours per month with no more than 10 hours per day and a limit of 4 hours per individual video call. Once these limits have been reached, the video will switch off and the call will convert to an audio call. It's also important to note that group calling is currently only possible in Mac and Windows Desktop. Windows 8, Linux, and mobile users do not have the ability to utilize group calling at this time.
To make group video calls, Skype Premium or Skype Manager is required.
To make a group video call, at least one of the people on the call needs to have Skype Premium (for personal accounts) or Skype Premium in Skype Manager (for business accounts). For business accounts, contact your account administrator to make sure Premium is a part of your service.
A high-speed broadband connection, webcam, microphone, and speakers are necessary. Nowadays, you can find webcams with built-in microphones, which makes it a lot easier and often a lot cheaper. If you're using Windows, you'll also need a DirectX 9.0c compatible video card. You'll also want to make sure your computer has a minimum 1.8-2.5GHz CPU, a 128-256 MB graphics card and 1GB-2GB of memory. Skype group video could possibly work on less than this, but you might have a lower quality experience.
Once your system meets all these requirements, you're ready to group video call.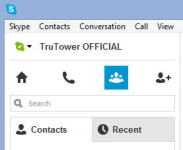 In Skype for Windows, select the Create a group icon as shown in the screenshot. Make sure you have the Contacts tab selected and then click a contact you wish to add to the group video call. Drag the contact down into the empty area below the Call Group button on the right side of the screen.
Alternatively, you can also click the + button and select Add People. In the Add people screen, select the contact or contacts you want to add, click Select and then click Add. To make this way faster and less tedious, you can press Ctrl on your keyboard and click to on each contact you want to add to select multiple contacts at once.
Finally, click the Video call button to initiate the call.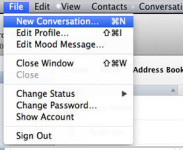 For Mac users, the process is very similar. Start by clicking File and then click on New Conversation… to open a blank conversation.
Next, click the Add button (the "+" symbol) and select Add people… to bring up your list of contacts. Select each contact you wish to add (you can add up to nine at once). Click Add once you've selected all of your choice contacts and then start the call by clicking on Video call.