Unify Square recently announced the launch of PowerSuite, a new integrated UC operations solutions suite that empowers IT with a holistic view into Skype for Business service health throughout the entire Microsoft UC transformation cycle.
According to a release sent to TruTower by the company, PowerSuite is designed to "reinvent the approach of monitoring and managing modern UC systems " by combinding "trusted Unify Square products with new complimentary solutions, such as Help Desk, Service Health and Operations Dashboard, to help guide IT from deployment to complete end-user adoption."
"Our customers and Microsoft rely on our technology to drive Skype for Business adoption and amplify user satisfaction," said Sonu Aggarwal, CEO of Unify Square. "Combining all of our products, solutions and technology assets into a single operational suite creates the industry's most robust and comprehensive Skype for Business management product. PowerSuite is a catalyst for significantly decreasing the time to 'get to green', achieving a healthy UC run-state and helping enterprises reduce the TCO for their entire Skype for Business ecosystem."


The company says the integrated PowerSuite functionality, available in three packages — Enterprise, Premium, and Premium Plus — "ushers in a new era of Skype for Business management" with the introduction of capabilities across five key areas of Skype for Business management:
Monitoring – Proactive synthetic transactional monitoring to identify and pinpoint service availability issues often before the end-user is aware
Analytics – Big data analytics capabilities unlock key insights from Skype for Business statistics, enabling better strategic operational decisions and more effective tactical interventions to ensure ongoing service health
Provisioning – Traditional MACD (moves, adds, changes & deletes) for Skype for Business coupled with complete automation and policy compliance management for the user lifecycle
Reporting – Usage and adoption, billing and other solutions to help IT more efficiently sift through Skype for Business data for troubleshooting and actionable next steps
User Experience – Integrated end-user satisfaction testing, help desk single user troubleshooting solutions and a complete user learning center portal, all focus on scoring and improving the Skype for Business user experience
The rapid market growth, acceptance and adoption of Skype for Business has sparked a massive transformation of the antiquated legacy voice services business. However, deployment success and ROI hinges on new operationalized monitoring and management solutions.
According to research conducted by Gartner, a frequent contributor to failed Skype for Business rollouts is the use of preexisting diagnostic and monitoring tools, which are not comprehensive enough for all end-user scenarios enabled by Skype for Business environments. As a result, UC-savvy IT leaders have embraced third party tools for pre- and post- deployments and commonly rely on them as essential components of successful rollouts.
Gartner expects demand for end-user VoIP and UC monitoring to triple over the next four years to represent 60% of mainstream UC performance monitoring and diagnostics tool procurements, up from 20% in 2015.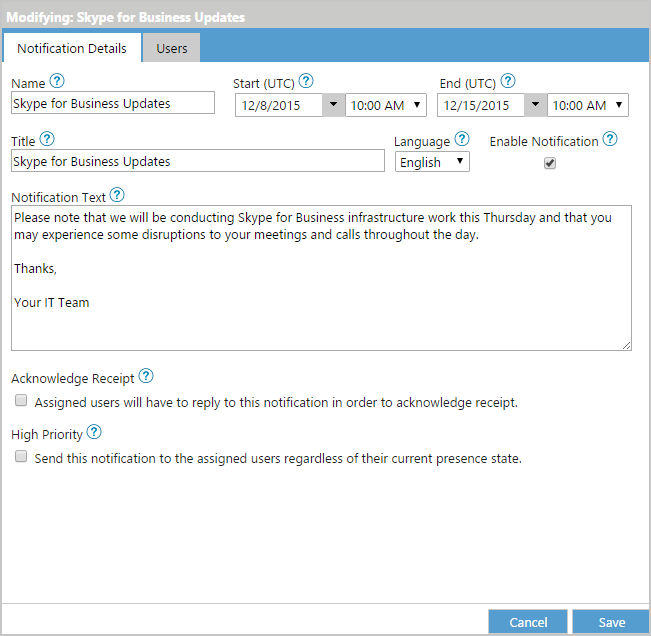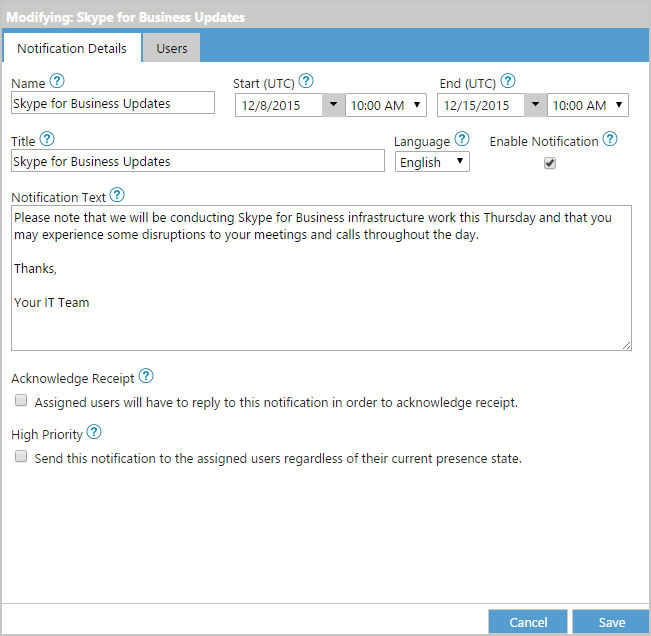 To meet the new UC management needs of IT, Unify Square leaned into the patented UC-Core technology at the heart of PowerSuite to provide both historical and real-time analytics that deliver actionable insights into the KPIs (key performance indicators) that determine successful Skype for Business rollouts.
UC-Core fuels PowerSuite's ability to help diagnose and fix call quality and service availability issues, enabling IT to pinpoint problems often before they occur. PowerSuite also layers end-user satisfaction data over system analytics to paint a holistic picture of Skype for Business' operational performance.
Additionally, automatic provisioning and deployment services streamline management even further, eliminating up to 99% of manual IT intervention for end-user moves and changes. The entire suite is built to run in the cloud, making it suitable for on-premise, cloud and also hybrid environments.
More information on the PowerSuite solution can be found via Unify Square's website.