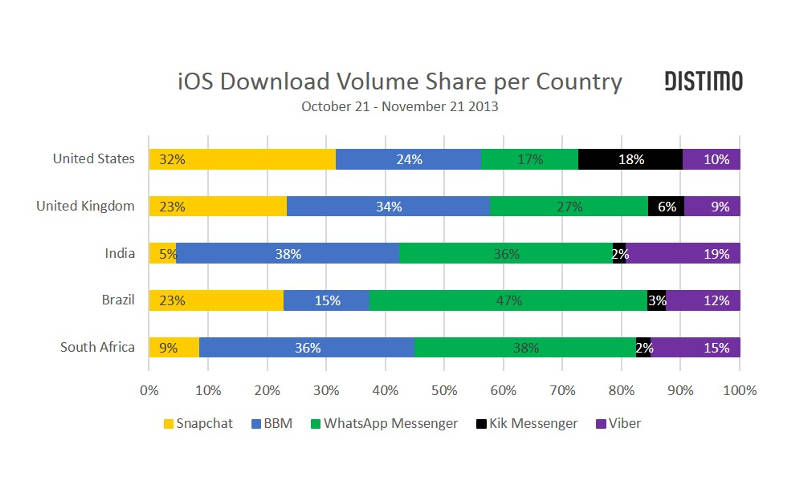 The messaging and calling app space is one that is extremely competitive. New apps launch every day, hoping to see the same kind of success that WhatsApp Messenger and BlackBerry Messenger (BBM) have. Other notable competitors include Snapchat, Viber, and Kik Messenger, all of which make up the top messaging apps in the world behind Skype.
A new survey from Distimo [via] shows just how competitive the space actually is, and how it differs across a number of different markets around the world.
First off, we can't really talk about competitive without talking about BBM. During the first month of availability, BBM managed to add 20 million users to the app's user base and was the most downloaded messaging app in UK and India in the first month. In overall downloads, it also managed to beat out WhatsApp, Kik, and Viber in the US market, losing only to Snapchat.
During its first month cross-platform, BBM managed to add 20 million users and was the most downloaded messaging app in UK and India.
Speaking of Snapchat, it's clearly having no problem in the US in regard to popularity with 32 percent of the download volume, but it's currently struggling to gain any ground in emerging markets such as India and South Africa, where BBM and WhatsApp are kings. The two apps were also shown to outperform Facebook Messenger earlier this month.
Strangely, WhatsApp only managed to secure 17 percent of the download share in the US, behind all other apps except for Viber, which was a remarkably distant 10 percent. These are markets where both apps were thought to have been more popular, but even Kik showed itself to be secure more downloads than WhatsApp, coming in at 18 percent.
Of course, Kik is really struggling in every other market in the survey, with single digit percentages in all of the other markets. While this is a limited representation of the popularity of these apps, it nevertheless shows that while Kik is indeed growing, it's being outpaced by the competition on Apple platforms.
Then there's Viber. While it didn't have the massive download numbers of BBM and WhatsApp, it's clear from looking at its position that it's at least stable and experiencing a still healthy state of growth. Viber recently launched a sticker store across the major mobile platforms to monetize itself, so there's also plenty of room for expansion.
As mentioned this survey represents a fraction of the picture, covering only the iOS platform in ten days and in a limited number of countries. If the survey covered Asia, behemoths like LINE and WeChat would surely be present in the results. Also, a survey that covers Android and Windows Phone would provide us with an even more accurate look at how each app is performing, but the findings of this particular survey do show some interesting stats for the world's top messaging applications.