Tango's New Native Ads Represent Continuing Trend of App Monetization by Social App Developers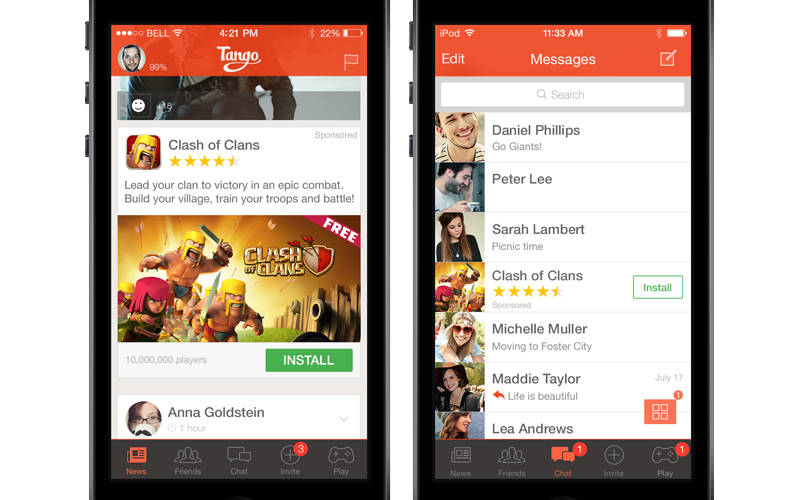 When it comes to calling and messaging apps, there are many key things that are the same while there are also features that set each app apart. One of the obvious similarities is the fact that each messaging app is looking for new ways to monetize. What's noticeably different is how each app approaches this monetization.
Each messaging app approaches monetization differently.
Take Viber for example. Viber recently launched a monetized sticker shop to help bring in revenues directly from its users. This is very similar to how LINE and KakaoTalk have approached their own monetization efforts, although the latter two also have localized games and content to help things along as well.
For Tango, its monetization futures lie with in-app advertisements. To that end, the company recently announced a partnership with MoPub to bring its native ads to the Tango entertainment app.
Native ads offer an opportunity to monetize applications by matching the app's look and feel, including in-app notifications and alerts. As you can see in the photo above, the native ads approach helps ensure that advertisements look like they're a part of the app experience rather than just simply slapped in as an afterthought.
Tango uses two native ad unit presentations within their app: One expanded unit in the News feed and another compact version in the Chat tab. Tango says the ability to work with multiple advertisers while running their own promotions helped them decide on MoPub's product.
Tango's move represents the continuing move by messaging and calling app developers to the freemium and ad-supported business models.
"Working with MoPub means we don't have put in the effort to create a custom solution from scratch for every advertiser that we work with," said Tango Head of Advertising Richard Rabbat, "so we can focus on our app and our business. The MoPub Native Ad standard makes it easy for us to both work directly with advertisers like Supercell and with other advertisers on MoPub Marketplace. We're excited to launch this with a partner that shares our vision to make advertising a great experience for our users and our ad partners."
According to Tango, native ads enable the maintenance of the "great user experience, while opening up new business opportunities and revenue sources with direct advertising partners" without having to build a custom solution.
Tango's move represents the continuing move by messaging and calling app developers to the freemium and ad-supported business models. With a partnership with Spotify and a plethora of games to keep its 160 million users happy, Tango has literally become an entertainment platform in its own right, and it's likely going to expand even further in 2014.