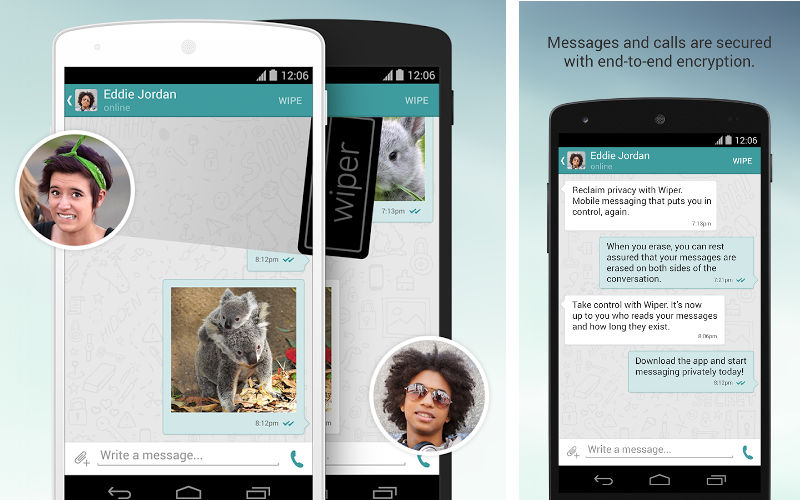 It goes without saying that the mobile messaging market is absolutely full of options for you to stay connected with your friends and family, and no we're adding another app to this already extensive list with the launch of Wiper for iOS and Android.
Wiper is like heavy hitters like WhatsApp in many ways, but it includes a button that completely wipes messages from the sender's phone, recipient's phone and the company's own servers in seconds. Not quite as ephemeral as Snapchat or as secure as other privacy-focused messaging apps, but it's certainly unique in its presentation.
"Whether it's WhatsApp, SMS, Facebook, Google or email providers, we've found that the more we look at communications companies, they really obscure privacy policies about our data, such as what is done with information, and how long it is held. It is also impossible to control what the recipient of messages is doing too," says Wiper CEO and co-founder Manlio Carrelli.
"It is also impossible to control what the recipient of messages is doing"
In addition to messaging, Wiper also offers encrypted HD voice calling, and will tell you when the other person takes a screenshot of your conversation. Photo sharing is supported inside conversations, images can be forwarded to others, though the sender is informed when that happens, and is told how many people their image was shared with.
This combination of notifications and wiping is aimed at giving users "transparency around what people are doing with your information so that you can make decisions about who you talk to," Carrelli explains.
The app is quite basic at this point, but Carrelli says there are plans to add new features — including group chat and a web-based service — soon. He also teases that the Wiper team has "something the industry hasn't seen yet" — which is quite the statement given that messaging apps are pretty much the same these days in terms of features.
Wiper has just raised a $2 million round from sole investor Michael Choupak, who also provided a $500,000 seed round to get Wiper going in February.
The app has been live on Google Play and the App Store for a couple of weeks and Carrelli, who was formerly CMO and head of product strategy at Intermedia, says it has drawn particular attention from the college demographic which appreciates its simplicity and the ease in which data is wiped.
However, with so much competition in the calling and messaging space already, one has to wonder how many more of these types of apps our smartphones can take before things start to get really repetitive.
Wiper is available for download on Google Play and iTunes.