KakaoTalk Celebrates As Two Year Anniversary of KakaoGame Platform Approaches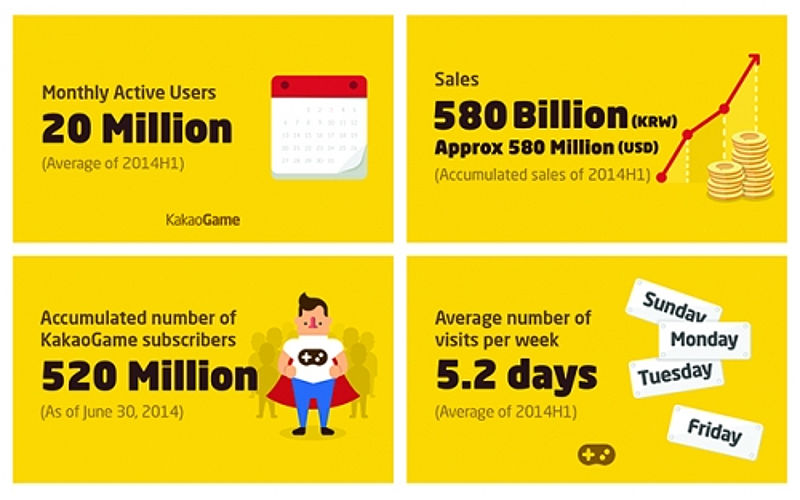 KakaoGame, the gaming platform associated with KakaoTalk is fast-approaching its two year anniversary, having first launched on July 30, 2012.
Back then, mobile games were just starting to erupt. The messaging industry wasn't nearly as big as it clearly is now. KakaoTalk was truly sailing into untested waters by including gaming inside of a messaging app, and was the very first to do so, followed in subsequent years by LINE, Kik, and others.
When KakaoGame launched on July 30, 2012, mobile gaming was regarded as a minor pastime activity mainly enjoyed by those in their teens and twenties. Today, it's commonplace to spot parents and even grandparents playing mobile games, and even inviting their friends and families to play along with them.
Currently, KakaoGame offers 520 games in partnership with more than 230 developers. More than 520 million accumulated subscriptions have been recorded for these games — up from 500 million in mid-May — and each month, more than 20 million users, or 40 percent of the entire Korean population, play games via Kakao. Moreover, an average player visits KakaoGame 5.2 times a week, signifying how mobile gaming has now become a deeply rooted part of Korea's everyday culture.
Based on this growth, accumulated sales of KakaoGame surpassed KRW 560 million (approximately $560,000) in the first half of 2014, recording a 60 percent growth year-over-year.
"we are focused on delivering the highest quality and most captivating gaming experience to our users"
Much of this growth is attributable to the explosive growth of the mobile gaming industry in Korea, KakaoTalk's home country. In 2011, before the launch of KakaoGame, the mobile game market in Korea was a relatively small market, valued at KRW 423 billion (about $423 million USD). By 2013, following the launch of the platform in 2012, this grew to KRW 1.2 trillion (about $1.2 billion USD), rising to become a significant cultural content business in the country.
"As KakaoGame reigns as the market leader and continues to advance the growth of the gaming population and industry, we are focused on delivering the highest quality and most captivating gaming experience to our users," said Kane Lee, International PR Team Leader from Kakao. "We look forward to collaborating with our existing and new partners around the world to introduce more exciting titles to our Kakao gamers in the most convenient manner."
KakaoGame can be experienced by getting the latest version of KakaoTalk on Android and iOS.