Facebook Messenger Division From Main App Causes Backlash from Consumers. Could it Be For More User Data?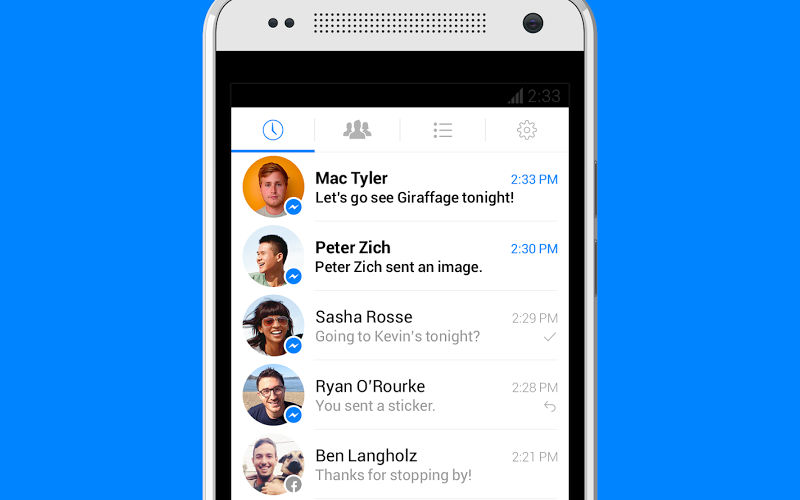 We're all aware by now that users aren't happy about Facebook's recent decision to divide Messenger from the main Facebook app. So I wanted to see the logic behind Facebook's decision and attempted to contact Facebook.
I didn't get very much information, and what I did get made no sense to me. Facebook's official statement said it was apparently done to "avoid the confusion of having separate Facebook mobile messaging experiences." For the life of me, as someone who's been writing about the messaging industry for nearly three years and who's had the separate Facebook Messenger app installed alongside Facebook's main app from the very beginning, I honestly can't see where the confusion lies, even for the average consumer, who would opt to have just the main app only installed and avoid Messenger altogether.
It would be difficult to confuse Messenger from the main app
Even if both had been installed, the experiences are still so different, it would be difficult to confuse the two. The obvious UI and color changes aside, Messenger doesn't feature the Timeline or any of the main Facebook features. It's clearly a messaging app, cut and dried. This means the app doesn't include the Timeline's notifications, nor does it include friend requests, group notifications, or calendar updates.
In other words, "avoiding confusion" didn't seem like much of reason to me.
To gain some insight into this issue from someone else with knowledge in the industry, I spoke with Tristan Barnum, the CMO of cloud communications provider Voxox regarding her feelings on the move.
"It's totally in Facebook's best interests than that of its users," Barnum told me. "It felt like a large departure from the idea behind Facebook when it was founded: a place where people can connect in a unified way, where they can see everything all in one place."
Which is certainly true, and is moving in the opposite direction of apps like Voxox, which seeks to be the Swiss army knife of communications apps. As Ms. Barnum and I discussed Facebook's actions in dividing Messenger from its main app, we couldn't find any reason behind it except for one: the move opens the doors for Facebook to be able to do more with user data.
"It comes down to reach," Barnum added.
And here's the thing. Facebook is already set to own the world's top messaging application, so why would they need to divide Messneger from the main app in order to become the top messaging app? Well, they don't. Competing with themselves for the number one spot is simply ludicrous, and it's not just WhatsApp and Messenger either anymore; Facebook-owned Instagram launched Bolt at the end of last month, giving Facebook yet another way to obtain user data. This, of course, occurred because Facebook wasn't allowed to buy Snapchat last year.
"It comes down to reach"
So maybe it's essentially a data grab for the purpose of grabbing more data. It's hard to see it any other way. Facebook has been experimenting with its users' data for some time. In addition to tracking user behaviors and seeing which ads are more effective with different users (which is not something exclusive to Facebook), the company has gotten heat for experimenting with 689,003 user News Feeds for the purpose of seeing how News Feed posts impacted the emotions uses would portray in their own Facebook posts. Experiments like this can give Facebook an unprecedented amount of power in manipulating what its users can see, say, or even feel. Dividing Messenger from the main app could easily be viewed as Facebook extending this reach to obtain more "useful" user data.
Here's a sampling of some of the permissions Facebook's new Messenger app asks of uses:
Allows the app to change the state of network connectivity
Allows the app to call phone numbers without your intervention. This may result in unexpected charges or calls. Malicious apps may cost you money by making calls without your confirmation.
Allows the app to send SMS messages. This may result in unexpected charges. Malicious apps may cost you money by sending messages without your confirmation.
Allows the app to record audio with microphone. This permission allows the app to record audio at any time without your confirmation.
Allows the app to take pictures and videos with the camera. This permission allows the app to use the camera at any time without your confirmation.
Allows the app to read you phone's call log, including data about incoming and outgoing calls. This permission allows apps to save your call log data, and malicious apps may share call log data without your knowledge.
Allows the app to read data about your contacts stored on your phone, including the frequency with which you've called, emailed, or communicated in other ways with specific individuals.
Allows the app to read personal profile information stored on your device, such as your name and contact information. This means the app can identify you and may send your profile information to others.
Allows the app to access the phone features of the device. This permission allows the app to determine the phone number and device IDs, whether a call is active, and the remote number connected by a call.
Allows the app to get a list of accounts known by the phone. This may include any accounts created by applications you have installed.
While all of this is indeed speculation based on facts, the question remains: knowing the backlash it would likely face, why did Facebook choose to make the controversial decision to divide its ecosystem? It clearly isn't in the best interest of users, as we can see from the big backlash on the internet and bad reviews in app stores (about 90% of reviews are one star ratings), but rather in the interest of the company.
Then there's the privacy and aspect as well, with questions like: should we stand by and let companies like Facebook access so much of our data, control the content we consume, how we consume it, and be able to manipulate our emotions at the flick of a switch? Should we continue to tolerate a corporate behemoth that treats its users more like lab rats than human beings? Should we continue to allow this sort of behavior from Facebook when there are plenty of other options out there with which to stay in contact with family and friends on our smart devices?
What do you think of Facebook's decision and what motives do you think hey have? Let us know in the comments!