We've been waiting for Kik to finally deliver a much-needed and much sought after update to its Windows Phone app for years. In addition to not supporting the company's Kik Cards and updated features like native video — therefore punishing tens of millions of Windows Phone users for simply choosing the third most popular mobile platform in the world — Kik has also made no indication that it will concede and let its users choose the platform of their choice.
But something else has started to bother me about Kik's lack of support for Windows beyond the lack of new features and Kik Cards that are unfairly given to iOS and Android users. Here's the gist: an overlooked issue with Kik for Windows Phone allows your privacy to be violated very easily. The scary part is, all that is needed is your phone number.
Yeah, you read that correctly. A phone number. That means your friend, family member, or even ex could potentially dig into your private contacts list without you even being aware of it.
Here's how:
Step 1: Open Kik for Windows Phone
Step 2: Tap Privacy
Step 3: Tap Address Book Matching
Step 4: Confirm with Yes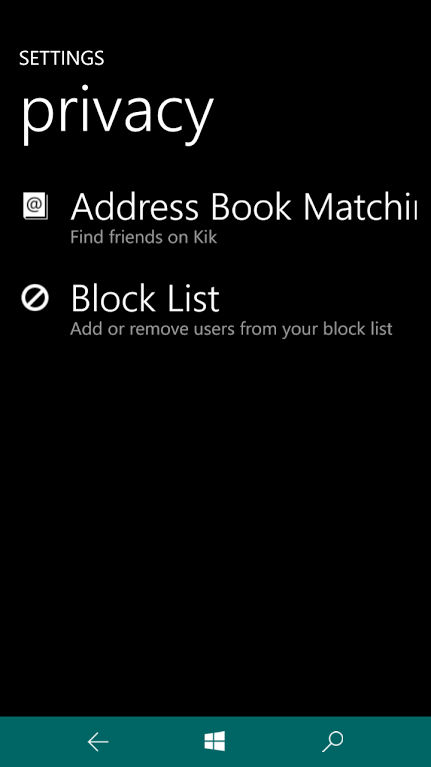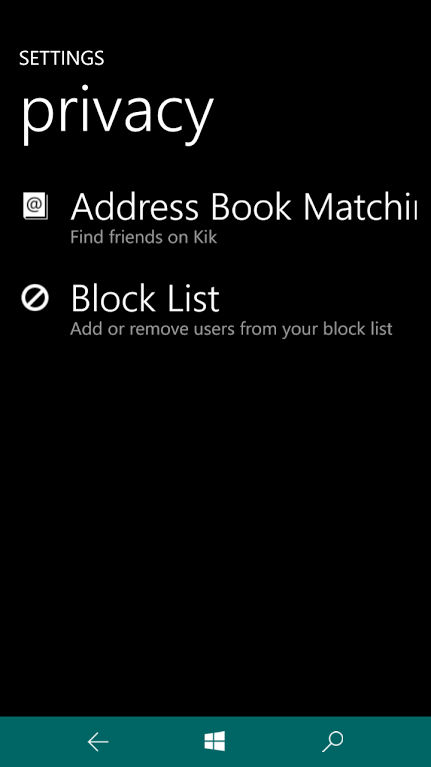 After doing these 4 steps, a screen comes up that prompts you to "Please enter your phone number."
Step 5: Enter any phone number of your choosing and tap ok at the bottom of the screen. Finally, tap Ok once the success has been confirmed. This step may have to be completed a couple of times with the same number.
Once you've done all this, the friends of whomever's phone number you entered in step 5 above will get a message on the Kik app that Kik has "found a fellow Kikster in your address book" at which point they can (and may) contact you.
While it still requires the contact to message you, it goes without saying that this is pretty eerie and does have the potential to be harmful. It's also something we should not expect from a company that appears to take user privacy seriously. Isn't part of maintaining user privacy keeping all of your apps up to date with the latest security enhancements?
Hopefully Kik's attitude toward Windows Phone users will change for the better and not only can we get an app that works, but users can also look forward to better privacy protection. Otherwise it might be worth looking into one of many additional options available in the crowded messaging market.
Kik has not yet responded to requests for comment on this issue or its future plans for Windows Phone or Windows 10 Mobile.