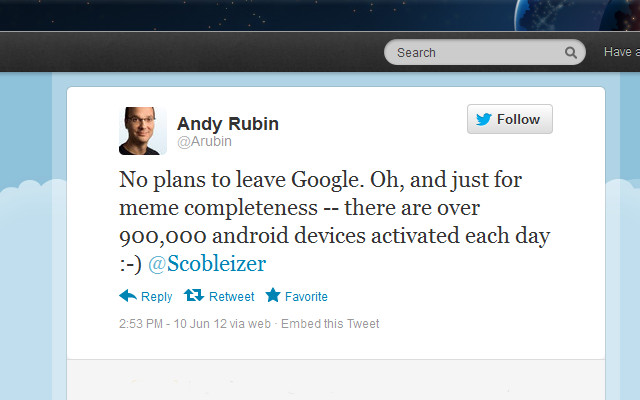 This weekend was a perfect example of how rumors can have a dangerous effect in the mobile world, as a weekend rumor started by Robert Scoble on his Google+ social network feed spiraled out of control and had some believing that Andy Rubin, the "father of Android," was preparing his exit from Google to focus on a new startup called CloudCar.
Rubin quickly denied those rumors on both Google+ and Twitter and took the opportunity ("for meme completeness," he says) to point out that there are now over 900,000 Android devices activated daily, up moderately from the 850,000-per-day figure he'd mentioned at MWC in February and the 700,000 at the end of 2011.
As for CloudCar, Rubin is involved with the startup but only to the extent that he has offered them the use of his incubator office space to work.
Rubin ended the story with "See you on the 27th," pointing to the Google I/O kick-off date.
The Verge, Andy Rubin (Twitter)