The BlackBerry 10 leaks continue as new images are spotted of Research in Motion's upcoming BlackBerry Z10 smartphone, which will be revealed with the OS on January 30th.
The new Z10 photos, posted online by Rapid Berry, are alleged promotional photos that seem to have a legitimate and very strong tie directly to RIM; they cover all the Blackberry 10 marketing points — the upcoming Z10 handset in both black and white flavors, RIM's VoIP solution BBM Video with its Screenshare feature, the new BlackBerry hardware keyboard and the so-called Time Shift Camera — and also the site also contains a short video that shows how BBM Voice functions in action, which we have imbedded below.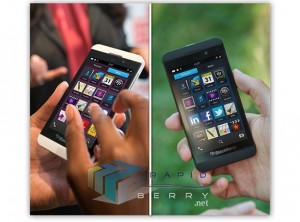 There's no doubt that BB10 is a highly-anticipated operating system, if nothing else but to see what kinds of new innovations the people at Research in Motion can bring to the table. The world doesn't have much longer to wait; January 30th is just around the corner.