Naver Corp.'s LINE app has certainly been moving at the speed of light toward the gaming end of the spectrum lately. Earlier this month RunRun Hero was released on the messaging platform, with LINE Dozer's arrival shortly before that. Now a new game has been added to LINE's arsenal: Puzzle Bobble for LINE.
Puzzle Bobble is a simple bubble-popping game that can be played alone or — in the tradition of other games on the LINE Game platform — with friends.
Help Bub and Bob turn themselves back into human beings by strategically lining up and popping bubbles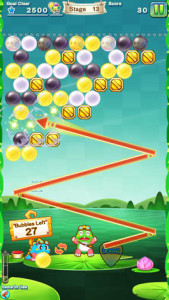 The story involves a couple of humans-turned-dinosaurs. You must help them reclaim their humanity by clearing missions and various stages. Shoot bubbles from the bottom of the screen to the top to create three or more of the same color to pop them. Naturally, the more bubbles you line up, the more points you get. Bubbles can be bounced off the walls into their respective positions, which can involve a great deal of skill. Missions have players performing various tasks such as completing stages with a limited number of shots, in a certain time limit, or with a particular score. Popping bubbles containing the profile pics of your friends will net you rewards aplenty.
Puzzle Bobble contains everything from blocks that cannot be popped that will randomly appear to block your advance to very limited shot counts. Players must use their discretion to try and get as high a score as possible, and beating LINE friends adds a nice level of accomplishment to the game (not to mention some additional bragging rights).
To try your hand at LINE Puzzle Bobble, you can download the game via Google Play or iTunes now. It's always a good idea to make sure you have the most recent version of LINE on your device as well.