You Can Now Book a Cab With WeChat Thanks to Integration With Easy Taxi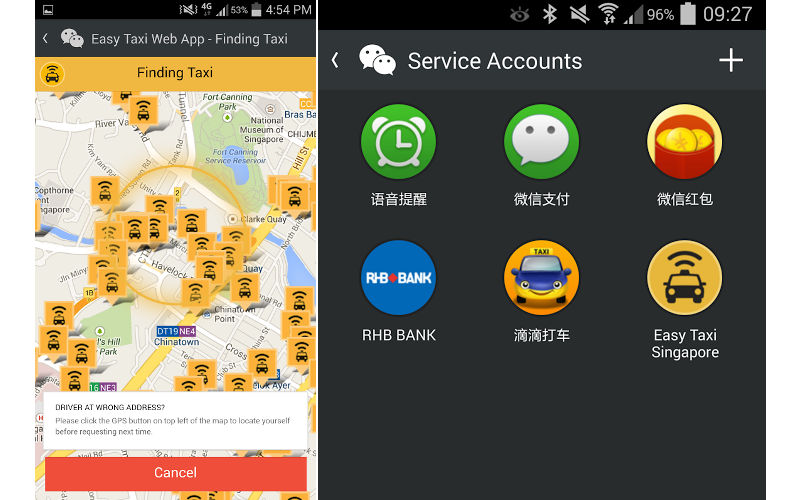 Easy Taxi and WeChat have announced a partnership allowing WeChat users to book taxis directly via the popular messaging app. The strategic alliance will position both brands as the top-of mind app for social interaction, be it virtual or physical.
"In the age of mobile internet, much of our social interactions are conducted via our smart phones. Integrating Easy Taxi into WeChat is a logical decision, as it gives consumers an integrated experience both online and offline," said Jianggan Li, Co-Founder and Managing Director of Easy Taxi Singapore.
"Integrating Easy Taxi into WeChat is a logical decision"
"This is our first taxi partnership in Asia, and we are excited to work with Easy Taxi and offer its services to our users," said Poshu Yeung, Vice President of International Business Group at Tencent, the company behind the WeChat app. He added that the partnership between WeChat and Easy Taxi will bring an enriching experience to users, enabling them to book taxis and travel through the city easily.
Once you follow Easy Taxi's official WeChat account (WeChat ID: EasyTaxiSGP) you'll be able to take advantage of the taxi booking function, along with a $5 discount that Easy Taxi is offering until the end of July to celebrate the launch of the partnership. All you have to do is send a private message to Easy Taxi to receive a promo code. Taxi drivers will also get an additional $1 per successful booking made through WeChat. For example, if the total fare is $22, passengers will only pay $17. Taxi drivers, on the other hand, will earn $23.
WeChat also says Easy Taxi will be integrated with the app's payment feature "in a few weeks' time" so users can pay for goods without carrying around cash or cards. The company is also working with companies such as FoodPanda to enable a full suite of lifestyle services through WeChat.
This partnership will be extended to other countries where both WeChat and Easy Taxi operate sometime in the future.
WeChat can be downloaded for free on Android, iOS, Windows Phone, and BlackBerry for free.