Lettrs, the Digital Letter-Writing Messaging App, Releases Its Application for Apple iPad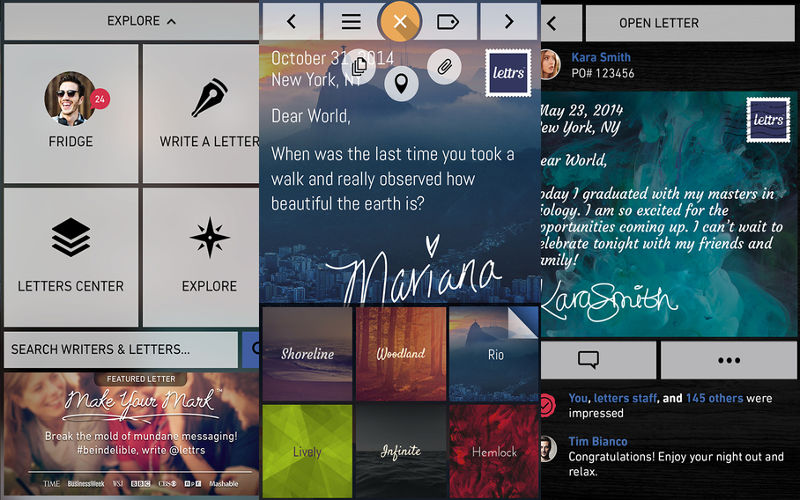 Back in July, lettrs launched on Android in an attempt to bring the art of letter writing back to the mainstream messaging audience. Today the social messaging platform released its latest iPhone and new native iPad application for hand-signed messages that recreate personal letters for a mobile world.
The free iPhone app is an extension of its popular Android app, and is powered by the market's first-ever "social signature" which enables writers to hand-sign their messages. iOS users can select writing filters, attach photos, and tags, now signed as digital memorabilia, to create customized messages that are visually appealing, easy-to-read and meaningful.
"We challenged the misconception that social messaging has to be disposable"
"Our new iPhone and iPad applications allow mobile users to discover the art of letter writing … of slowing down, even in a mobile medium. We challenged the misconception that social messaging has to be disposable by making letter writing personal and valuable again," said Drew Bartkiewicz, the co-founder and CEO of lettrs. "While other messaging apps seek to extinguish words, lettrs aims to distinguish them."
The new iOS apps include:
A collection of designer themes including a limited time "Humanity Collection"
Geo-location stamping of signed lettrs messages, including photo attachments
One-stop letter center to organize personal letter writing for private messaging or public letter writing, including the first & only personal autograph from an iPhone
Tagging system for mobile and tablet users for easy searching and sorting
Internal/native advertising space to promote in-lettrs events and personalities
Over 1 million users from 174 countries and in 80 languages have downloaded lettrs since its launch on Android in July. Lettrs is also one of TruTower's favorite new messaging apps on the market, as it offers something both familiar and new instead of copying apps already present in the space.
lettrs has also expanded with the opening of a new office in Williamsburg, Brooklyn to help facilitate its daily operations and a team of 14, as part of its mission to deepen how people communicate worldwide.
"Our expansive growth and push toward a talented workforce in a new office location reflects our company's commitment to transforming the future of written communication and to power the lasting mobile letters we knew the world could write. lettrs is engaging the permanent words in social, with a wildly popular response to counter secret and superfluous messages."
The new lettrs application for iPhone and iPad is now available in iTunes.