One of the most classic movies of the 90's era has to be Ace Ventura: Pet Detective and it's one of the landmark titles of Jim Carrey's career. Now you can relive the series (albeit in its Animated Series form) with new stickers in the BBM Shop.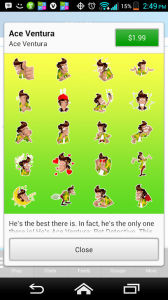 The new stickers, like most that launch in the BBM Shop, are available for $1.99 USD. You can see a screenshot of the new stickers on the left. They, of course, contain a few of the wacky shots and expressions that fans of the Ace Ventura: Animated Series will no doubt remember.
You can find these new stickers via the BBM Sticker Shop on iOS, Android, and BlackBerry Messenger. Download BBM here. Windows Phone users should be able to partake in the sticker fun soon. No, re-he-he-he-heally.
Also, don't forget to check out the newly-released Sonic the Hedgehog BBM stickers for another 90's icon and blast from the past.