Tru App for Desktop Review – Version 1.1 (Windows)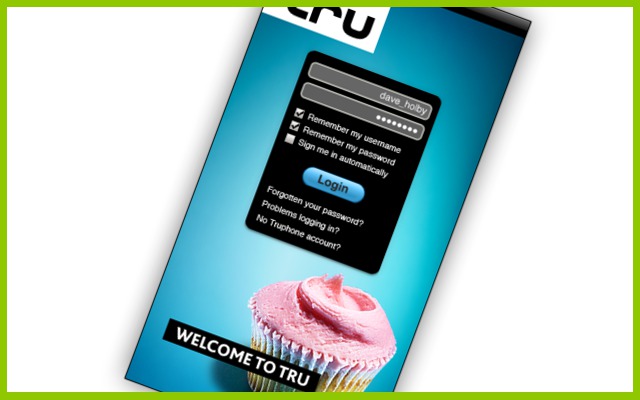 Following in the footsteps of our reviews for the Android and BlackBerry versions of Tru's App comes our review of the Tru App for Desktop, Windows version.
Tru recently released version 1.1 of their desktop application for Windows.
Users are greeted with a "Welcome to Tru" login screen (shown above) when they first open the app. Once they log in, the app opens to a simplistic layout showing the list of contacts first. The first thing we did was click on the plus (+) symbol at the bottom. From there, we clicked on the "Manage IM Services" option.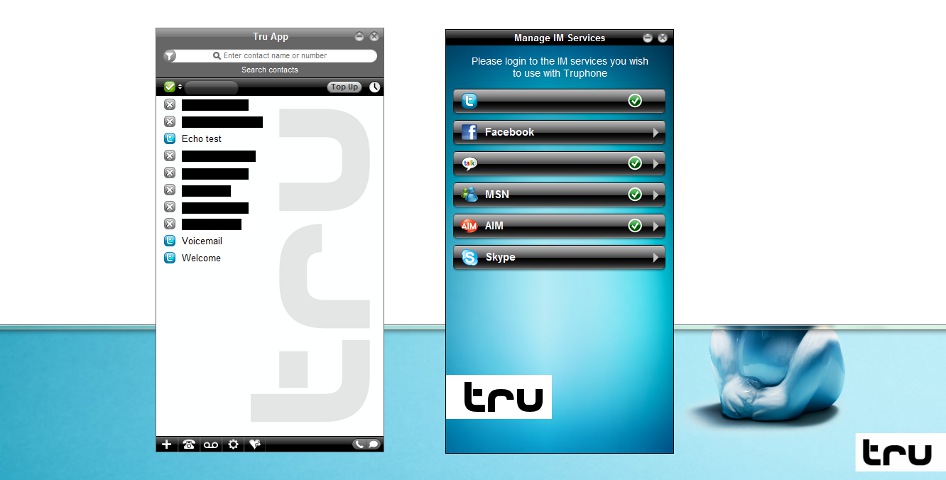 Once we had logged into a few of our IM services, additional options "Add Outlook Contacts" and "Add Google Contacts" were added to the + menu. At the time of this writing, Skype was not logging in correctly, so we were unable to test that part of the IM features. However, our Facebook, Google Talk, AIM, and MSN accounts were all logged in and working perfectly. There is also an option to "Add Truphone Contacts," which allows you to add other Truphone app users to your account to take advantage of the free Tru to Tru calling.
The app performed admirably in all of our tests aside from the Skype login issues. Although there is no video calling feature as of yet, the calls were clear and connected without trouble. We had one Tru user in the United States making calls to another Tru user in the United Kingdom, both of whom were using Windows 7.
We did have a slight echo on one call, but the echo faded when we hung up and attempted another call. The built-in Echo Test on the Tru App performed without any issues, so we're not ruling out the possibility of equipment error. Our test conversation lasted about 30 minutes before we disconnected the call.
So far, the Tru App for Desktop is our favorite of all the versions (not counting the iPhone, iPad, or iPod versions we haven't reviewed yet of course). It functions smoothly and has all the features of the Android app. Our biggest disappointments weren't in the performance, but rather in the lack of video calling and the issues with Skype logging in (which coincides with the Skype login issues we had in our Android app review.
Tru Labs is currently working on a major update to the app. Some features may be taken out, and some features may be left in. Tru has made it clear that their focus on the upcoming apps is quality. This version of the Tru App performed admirably overall, so we can hardly wait to see what's next.